Retekess TR507 FM Transmitter RDS digital coding technology, stable signal, longer range, high-quality sound MIC AUX USB Bluetooth TF card Audio Input The Golden one has been Out of Stock Please Order the Black TR507
Only
100
left in stock - order soon.
Retekess TR507 FM Broadcast Transmitter Long Range for Drive-in Church in Stock
As we all know, the COVID-19 is more serious in the whole world. The governments advice us to stay at home to keep safe.
So we have the new way to do the church services now-Drive-in church using the FM broadcast transmitter in the parking lot.
Many FM transmitters in the market are out of stock, but Retekess makes the new one meet the marking needs.
Let's check the details of TR507:
(1)LCD display (2)Down (3)Up (4)1-4 Partition key (Only apply to our special receiver)
(5)1-4 Partition key (Only apply to our special receiver) (6)Indicator( when it light up, it show the frequency is locked)
(7)OK ( Confirm and Lock/Unlock frequency) (8)USB port (9)TF card port (10)Indicator (MP3 status)
(11)Last song / Volume + (12)Play/Pause (13)Next song /Volume - (14)Loop (15)Bluetooth
(16)Bluetooth status indicator (17)Power (18)Microphone Jack (19)Microphone Volume
(20)ECHO (21)Output Volume (22)Treble (23)Bass (24) AUX input
(25) AUX output (26) DC 12V power input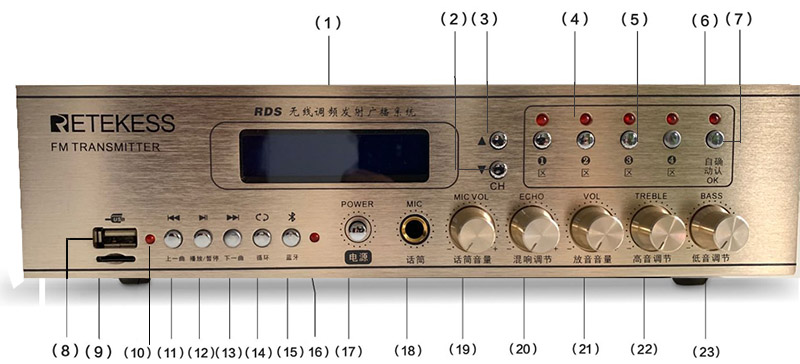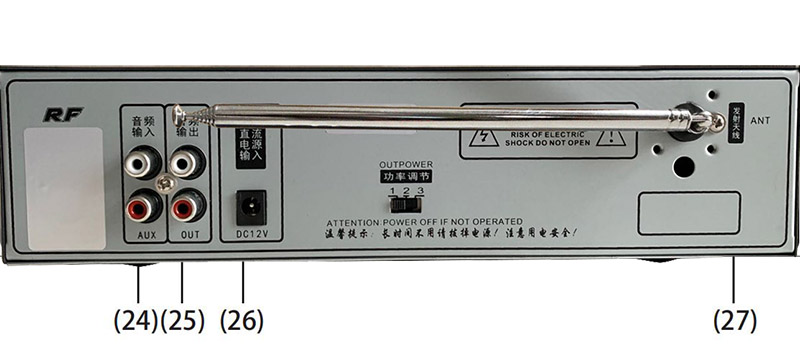 The feature of TR507 FM Transmitter
Work in long range and with the good quality of the sound

Support bluetooth, TF card

Support Frequency lock

High quality with full metal material

In stock available

FM transmitter: 270 * 195 * 70mm with package: 390 * 255 * 90mm
Operating Instructions
1, Basic Operation
1) Confirm the working frequency (it shows on the display)
2) Extend the antenna (28) vertically to a suitable length according to the following data, and make sure there are no obstacles around.
85MHz ----- 88cm
100MHz ----- 75cm
107MHz ----- 70cm
3) Transmit music or speaking
Microphone: Insert a 1/4 inch mic to the Mic Jack (18), then adjust the volume (19) or ECHO (20) keys to a suitable level.
Aux: Insert the external audio source cable (such as deck, VCD, etc.) into the AUX input jack (25), adjust the Treble (22), Bass (23) and Playback Volume (21) to a suitable level.
Play music or Bluetooth: Insert the U disk, TF card or connect the Bluetooth with other device, adjust the Treble (22), Bass (23) and Playback Volume (21) to a suitable level.
4) AUX output: The TR507 FM transmitter is equipped with a AUX output jack that can output the sound source of the item to provide a signal source for other equipment (such as power amplifier, transmitter, etc.).
2, Frequency Setting
Press the OK button (7) and make sure the Indicator (6) light off, then press the Up (3) or Down (2) button to select the needed frequency, press the OK (7) button again to confirm and lock the frequency. It is done and the indicator (6) light on.
Please fill in your procurement needs and contact information
Specifications
1) Working voltage: DC 12V ± 10%
2) Frequency range: 87 ~ 108MHz (3MHz work selected by the user)
3) Frequency step: 100KHz
4) Frequency deviation: ≤1KHz
5) Coverage radius: 2 KM
6) Modulation frequency offset: ± 75KHz (at 100% modulation)
7) Pre-emphasis: 75μS
8) Audio distortion: ≤1%
9) SNR: ≥55dB
10) Harmonic / clutter radiation: <60dB
11) Frequency response: ≤ ± 1.5dB (100Hz ~ 10KHz)
12) Audio input level: 0dBm / 600Ω (unbalanced)
13) RDS coding method: DPSK
14) RDS subcarrier frequency: 57KHz ± 6Hz
15) RDS frequency deviation: ± 2.4KHz
16) Audio output amplitude: 2000mVpp
17) Audio formats: MP3, WAV, APE, WMA
18) Working temperature: -25 ℃ ~ + 45 ℃
Q: Does the FM transmitter in stock?
A: No, the item is so pupuar, and it is out of stock om 17th Apr, the next stock will be 3 weeks later.
Q: How far does the transmitter work?
A: 1.5KM-2.5KM
Q: Can i use the FM transmitter for the drive-in church in the parking lot?
A: Of course, the frequency is from 87-108MHz, you can set it with the same frequency fo your car radio.
Troubleshooting
No power

1. The adapter is damaged

2. The plug is loose and reinserted or replaced

Large transmission noise

1. Make sure the audio signal cable is connected well

2. Adjust transmitter antenna length

3.Are there strong interference around the transmitter antenna

Short Range

1.Adjust Transmitter antenna length

2. The transmitter antenna is too close to the metal object

3. Make sure the frequency of the transmitter is consistent with the center frequency of the antenna

Transmitter alarm

1. Adjust the antenna length

2. Make sure the antenna length is consistent with the transmitter frequency band