Classic type, support 999 Channel, Easy to set prompt way and number, Long durable use compared with ABS material
Only
1000
left in stock - order soon.

Description
This wireless queuing system set consists of one 999-channel keypad wireless calling button base and 10 pcs wireless coasters. The keypad call can send 999 different codes by combination from digits 0-9. The queuing system greatly improves work efficiency and avoids the client waiting in a long queue. So it is widely used in fast-food restaurants, food court, pizza shop, church, and auto shop or other places where there are many guests waiting for their services.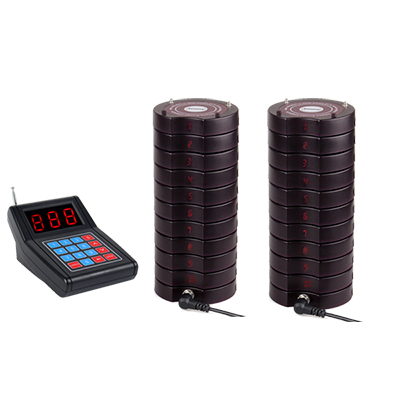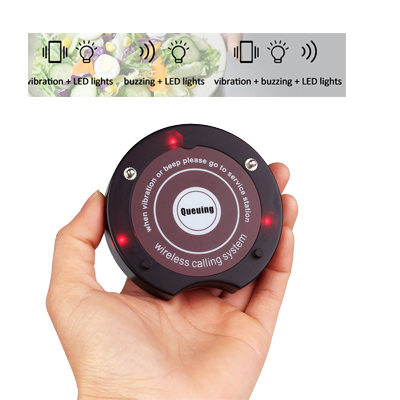 1, Come with one keypad and 10pcs pagers, but this keypad has 999 channels and supports 998 pagers.
2, Have 3 Prompt modes: Vibration & Buzzer & Vibration + Buzzer (each mode is accompanied by the LED flashing), you can choose the type that you need.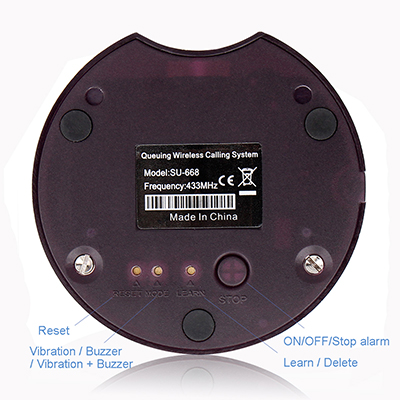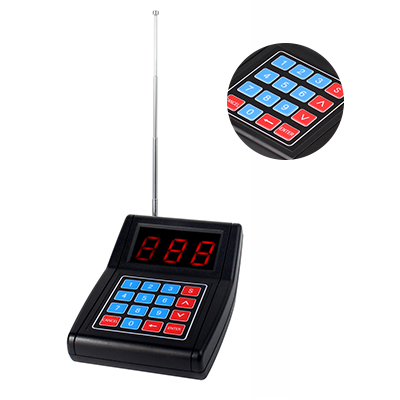 3, In the back of pagers, there are many keys, you can program and change prompt mode very easily. You can also stop the pagers using one key "stop" directly.
4, Built-in external antenna, strong signal, distance can reach to 800M in the open area, we test is by ourselves. But if have many obstacles such as the wall door, it will shorten the distance to 300-500M. There are also have many keys in this keypad, you can operate it easily.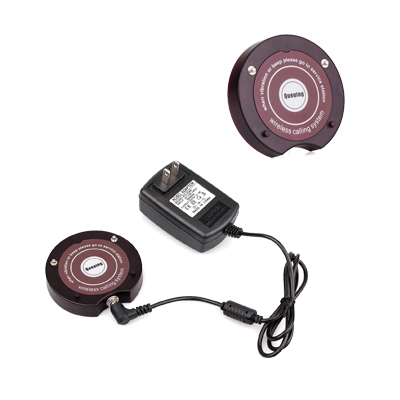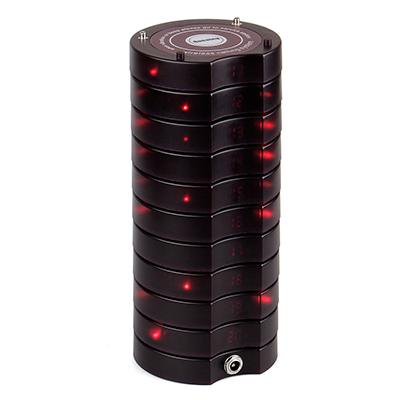 5, Built-in 3.7V rechargeable battery in each pager. With a full charge, it can be used for at least 72 hours standby, 36 hours in use. Independent storage memory avoiding data loss. We have 4 types of power adapter and we will send it based on your country.
6, When charging, you can put the number directly, It will flash, easy to search pagers number.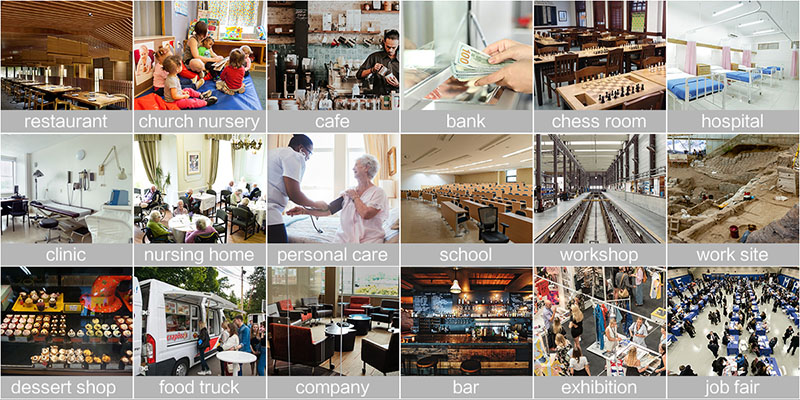 Solutions: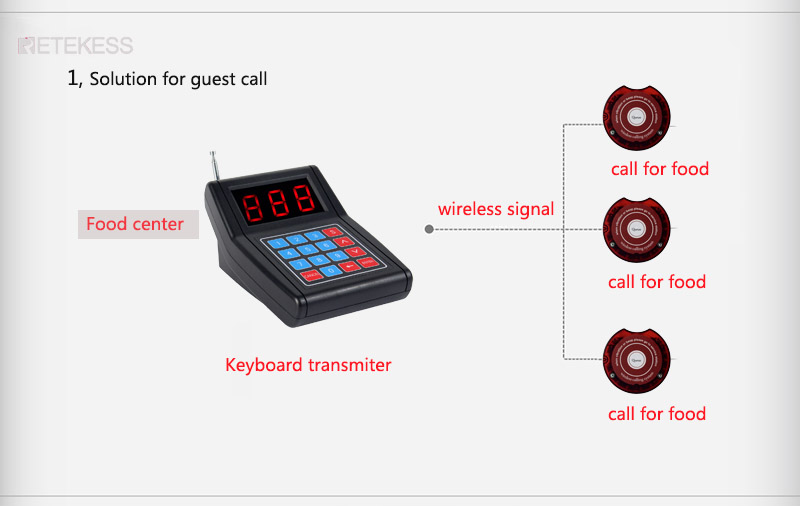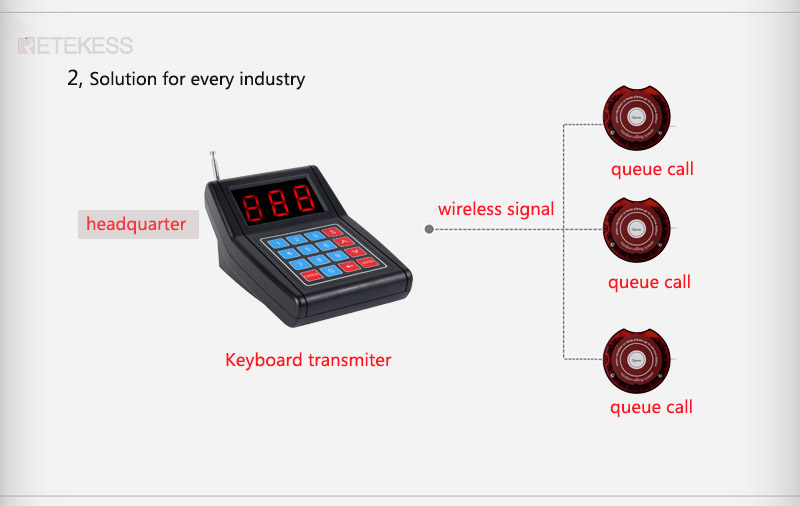 Please fill in your procurement needs and contact information
Specification:
Coaster

Frequency

433.92MHz

Shell material

high quality polycarbonate

Prompt mode

Vibration & Buzzer & Vibration + Buzzer

Power supply

Built-in 3.7V 360mAh rechargeable lithium battery

Charging base adapter

Input: AC 100-240V, 50/60Hz

Output: DC 5V, 4A

Size

80 x 73 x 15mm / 3.1 x 2.9 x 0.6in

Weight

59g / 0.13lb

Keypad Transmitter

Frequency

433.92MHz

Material

ABS plastic

Key life

million and above

Transmitter distance

800-1000m (open area)

Screen

74 x 37mm

Power supply

DC 12V, 1A

Adapter

AC 100-240V 50/60Hz

Size

162 x 112 x 72mm / 6.3 x 4.4 x 2.8in

Weight

250g / 0.55lb
Package Includes
1 x Keypad Transmitter

10 x Coasters

1 x Charging base

2 x Power adaptor

1 x English Manual
Steps to make wireless coaster paging system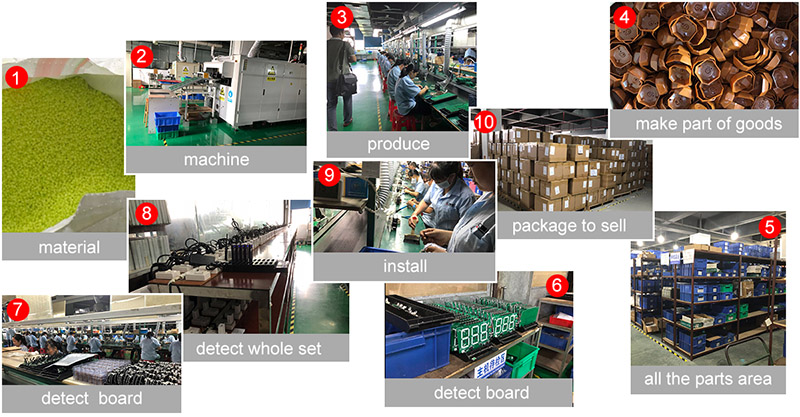 Q: How many pieces pagers can I use?
A: The guest paging system supports 999 channels, you can use 998 pagers
Q: How many prompt ways that I can use?
A: There are Vibration + beep, beep, vibration( every way with the lights flash )
Q: How to program the number?
A: There is a "set" key on every pager, you can press the set key, and press the number with call.