T112 paging system is 600m range in the open area and 200-400m with many walls. Widely used in the fast-food restaurant, pizza shop, coffee shop, bars, and churches. One-pager could be called by different transmitters which in different places with the same number or different number as needed
Only
1999
left in stock - order soon.

Details Features

3 Prompt modes
There are 3 Prompt modes for suitable conditions
Vibration+Led Flash;
Buzzer+Led Flash;
Vibration+Buzzer+Led Flash
You can use it in church nursery, restaurant, hospital, office for different models.
Long Range
Professional chip to maintain the stable signal and long-range; Up to 1000m of site coverage at the open area and 200-500m of many walls.
Customers could wait for their meals around the restaurant or in their's car.
Besides, nothing to set up, all the pagers have been paired before shipping, you just need to plug it in to make it work
Stable Signal
433.92MHz RF Frequency;
NO need to worry about signal interference.
The signal carries through the walls, wooden door, and other signal barriers;
So it can be a good choice for office use to communicate with the company staff.

20 Charging Slots
The material is environmentally ABS plastic;
Besides, the internal wiring is reinforced and resistant to falling.
So it can be sturdy and durable use.
And it helps for battery life without overcharging concern
Supports up to 999 pagers
Durable for high volume use
Your customers may have to wait for their food in the immediate area in your restaurant or wait in line.
With the pager system, it can solve your problem especially for efficiency and customer satisfaction improvement.
Freedom to place logo
The number paper on the pager removable; Allow you place the wished logo into the paper slot
It is easy to replace the pictures on the pagers and customize them with your restaurant's brand image.
Then it can be helpful for your restaurant and other business reputation

SOLUTIONS: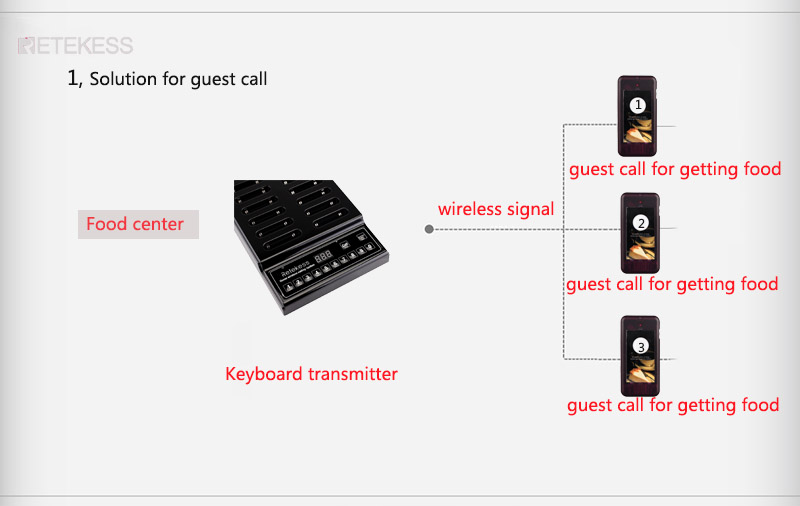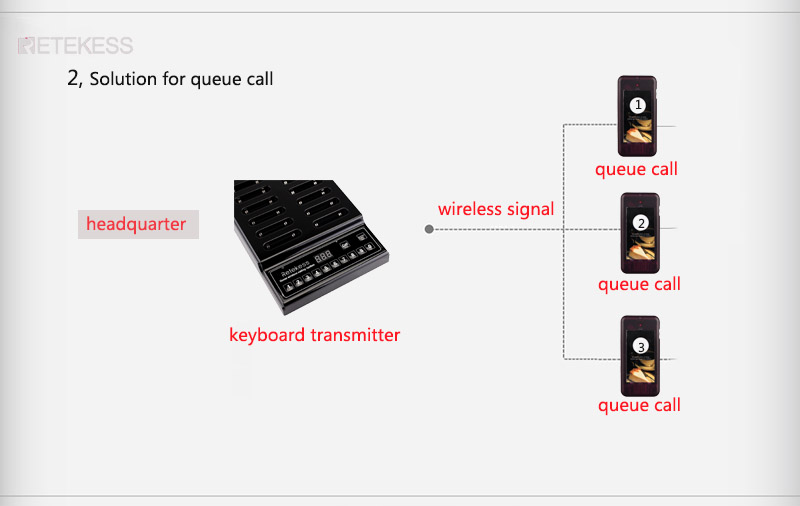 Please fill in your procurement needs and contact information
Keypad Transmitter
Standby current 24mA
Transmit current 100mA
Working voltage DC 5V/6A power adapter
Adapter AC 100-240V 50/60Hz

Pager Receiver
Receive sensitivity -107dBm
Decoder Learning code AM
Standby current 10mA
Working current 75mA at vibration
Charging voltage DC 5V

What's include in the package?
20 x Pagers
1 x Antenna
1 x Power adaptor (Tell us which type of the adaptor do you need)
1 x Keypad transmitter
1 x Users' manual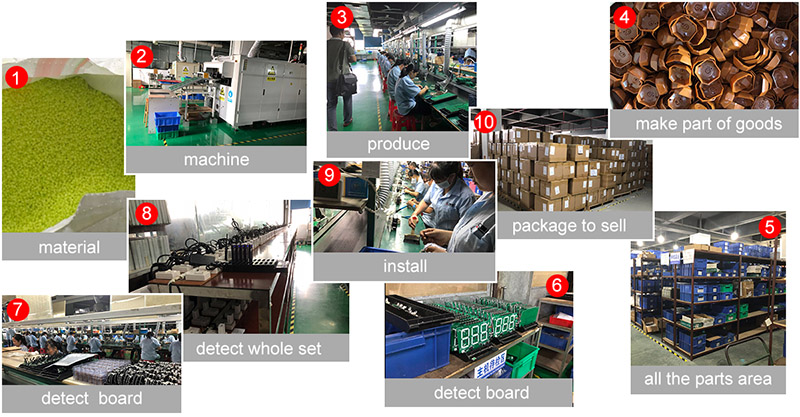 Q: How many piece pagers can I use in one set?
A: You can add up to 998 pagers
Q: Can I close all the pagers on the charging base?
A: Yes, long-press number 9 to close them.
Q: How many prompt ways?
A: There are 3 ways in all: Vibration + beep, beep, vibration(each with lights flash).