Classic guest paging system Shutdown at once by pressing the number of 999 + Call button Working distance is about 500ft indoors, 3080ft in the open air
Only
1000
left in stock - order soon.

Wireless guest paging system Retekess T113S Upgraded Version
Product Details

Extensible Metal Antenna
There is extensible longest 29.5cm metal antenna;
Compared with a fixed antenna which is made of cheap plastic, it can be more durable;
For extension adjustment design, you can use it better under more conditions like bar and medical clinic.
Stable Signal
It adopts RF wireless 433.92MHz Frequency;
Unique System ID eliminates interference;
Once pager pairing successfully, then the receiver has a single signal ID;
And you can delete it to get new pairing;
So it is very stable, for not disturbed by other radio signals.
Long Range
It can be a long-range top 1000m at open area.
Compact size: so it won't take up much space and easy to use;
Ergonomics design: so it can more comfortable for your customer's use.
Product Advantages

Replace Label Freely
You can replace your label on the receiver;
Easily customized number paper to promote specials and drive sales.
Smart Charge
Each receiver battery can be rechargeable.
Battery life indicator light shows battery when the battery needs replacing;
Charges all pagers in 4 hours;
Extends battery life without overcharging.
Charging Slots Design
The call button keypad has 16 battery charging slots;
And it supports extendable 999 channel receivers.
So it can help when you want to boost business range for more customers;
Besides, there is built-in advanced chip to maintain high sensitivity.
Application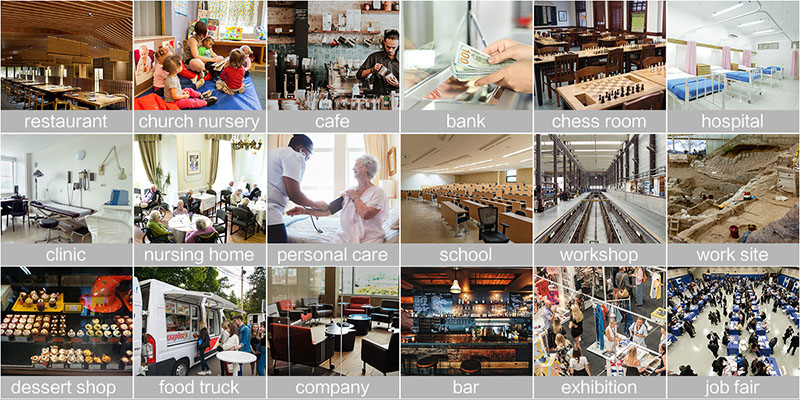 Solution: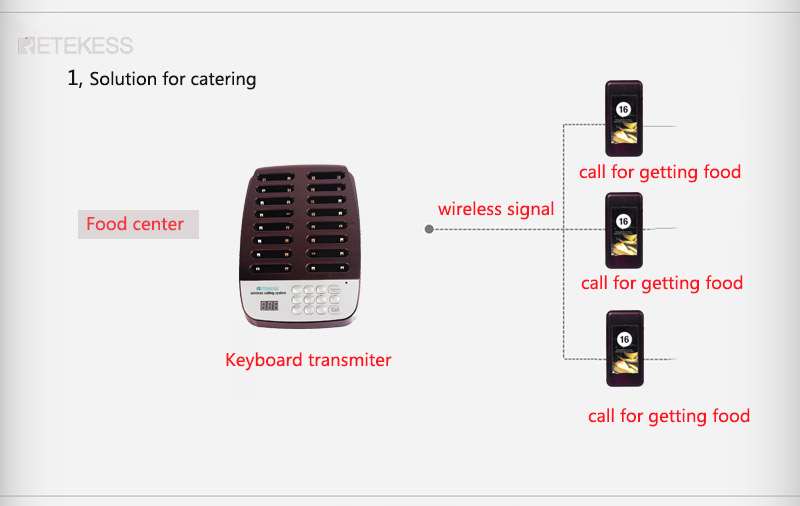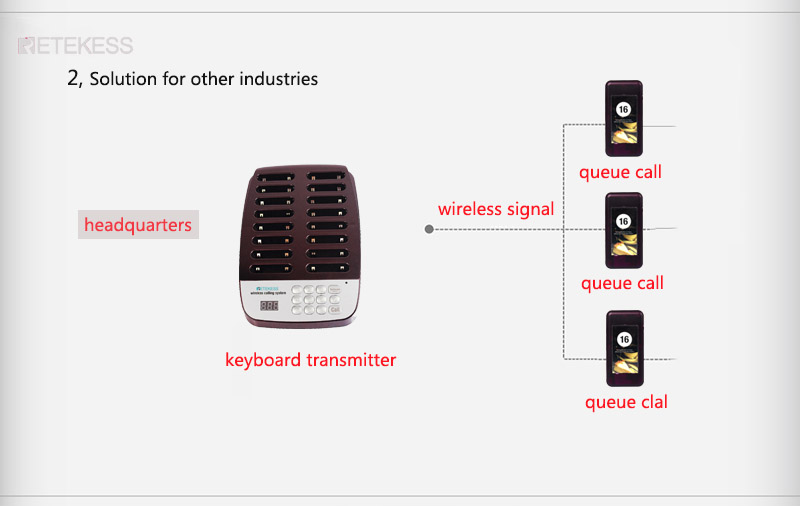 Please fill in your procurement needs and contact information
Specification:

Receiver
Frequency: 433.92MHz
Receive sensitivity: -107dBm
Decoder: Learning code (AM)
Standby current: 10mA
Working current: 75mA (vibration)
Power: Built-in 200mAh rechargeable lithium battery
Charging voltage: DC 5V
Size: 105 x 50 x 10mm / 4.1 x 1.9 x 0.4 in
Weight: 40g / 0.09lb

Keypad call button
Frequency: 433.92MHz
Standby current: 24mA
Transmit current: 100mA
Encoder: Learning code (AM)
Working voltage: DC 12V/2A power adapter
Adapter: AC 100-240V 50/60Hz

Package Includes:
1 x Call button keypad
16 x Receiver
1 x Power Plug
1 x Antenna
1 x English user manual
Q: How many pagers have in the original package?
A: There are 16 pagers
Q: How many prompt ways it has?
A: There are 2 ways: Vibration + buzzer + flashlight and vibration + flashlight
Q: How many pagers can I use in one set?
A: 998 pagers.
Q: What can a wireless paging system do for you?
A: It can help you stop yelling to call your customers. Guest come to the restaurant and makes an order. The waiter gives each guest a pager;

Q: Why choose the T113S paging system?
A: Waterproof for the keypad
High receive sensitivity
The new product, easier to use and more stable
Built-in 200mAh rechargeable lithium battery; At least 48h on standby and 24h while in use
Independent storage memory avoiding data lost
Self-testing while power on
16 batteries charging slots