This wireless transmitter call button is 433MHz;have Three key: Call, Cancel, Pay; has sticker,can be fixed on the table ;the emission range can reach 500m in open area;bulid in 12V 23A battery ;modulation modeis ASK (AM);the working chip is learning code, can use in tea or coffee house, spas and salons, health and fitness clubs, restaurants, hotel conference rooms, executive dining rooms, Saloon, nightclubs, bowling alleys, massages house, churches, casinos, golf and country clubs, hospitals
Only
999
left in stock - order soon.

Retekess White and Red Transmitter Call Button for service, You can use it in Restaurant , Bank, Cafe, Club, Clinic, Church nursery, Office.
Kindly note:There is just a call button, cannot work seperately.If you need to buy receiver
Here is the more detail and advantages of this call button.
Mini Transmitter call button 433MHz, can work with many receiver, if you are not sure which receive to buy Pls contact us.
White wireless call button, friendly metarial, comfortable feelings when touch it.No-slip design, Beautiful color-White with Red.
White and red wireless call button, popular in restaurant,clinic, hospital.
Support open by yourself to change battery.
Have sticker, you can fic it on the table, be good at uuse in restaurant, clinic.
Bulid in strong antenna, bettery,and ASK(AM) learning code.
Applications:
Restaurants, tea or coffee house, spas and salons, health and fitness clubs, hotel conference rooms, executive dining rooms, Saloon, nightclubs, bowling alleys, massages house, churches, casinos, golf and country clubs, hospitals, health clubs, and offices.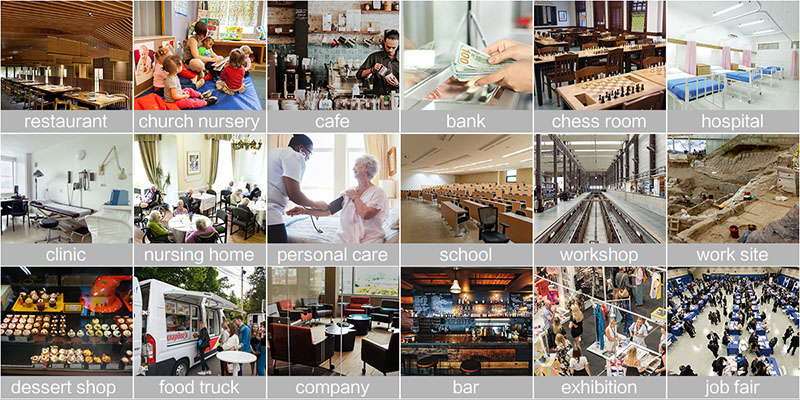 Please fill in your procurement needs and contact information
Specification:
Brand: Retekess

Small, low current draw

RF frequency: 433MHz

Modulation mode: ASK (AM)

Working chip: learning code

Power: 12V 23A battery (included)

Working current: 17mA

Emission distance: 500 meters (open area)

Working temperature: -20 Celsius to 55 Celsius

Size: 60 x 60 x 20mm /2.3 x 2.3 x 0.7 in

Weight: 42g / 0.09lb

Has sticker, can be fixed on the table

Three key: Call, Cancel, Pay
Package include:
1 x Call Button

1 x Sticker
Q: How many pieces call button can I use in this display?
A: Max up to 999pc.
Q: Do you have other color of this call button?
A: Yes, we have the black one, but the mini quantity is 200pcs.
Q:Can you add a watch receiver to the T114 Wireless calling system?
A: Yes, you can add watch receivers to the T114 wireless calling system.