Long working range; the max range of the buttons to receiver can be 200m at open area in theory
Max support 500 wireless call button
Rechargeable 400mAh battery for the watch receiver
Watch Receiver use dot matrix LCD screen to maintain the image clarity
Support single key and mulity key function
Only
4793
left in stock - order soon.
Retekess T128 Watch Receiver Table Service Black and White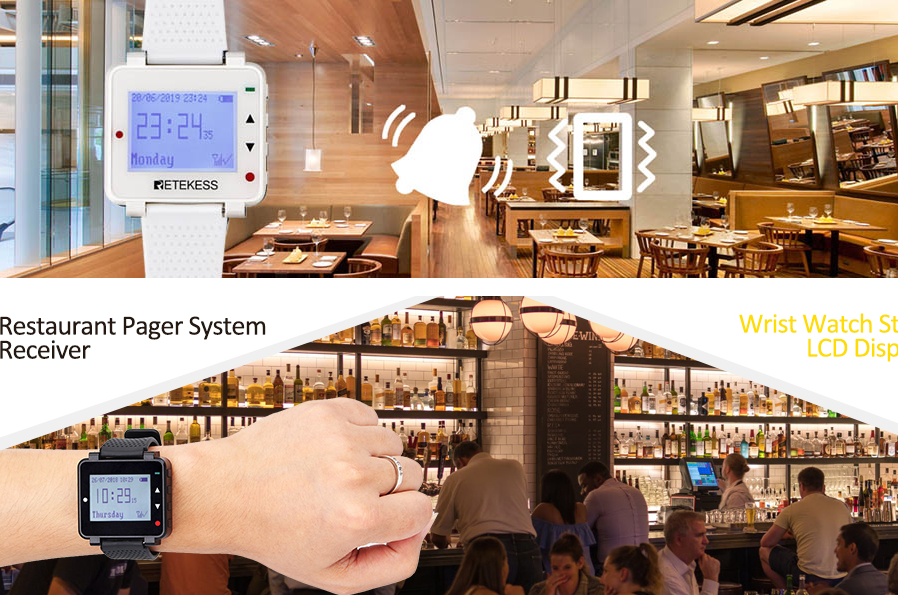 Table service device description:
Watch Receiver use dot matrix LCD screen to maintain the image clarity; vibration or buzzer adjustable prompt modes; you can change it from vibration to voice
Support multiple buttons are pressed at the same time; Screen show setting to select live view or queue view mode; So it can tell which pager is requesting first
Long Range; the max range of the buttons to receiver can be 200m at open area in theory; with fast delete function, can delete single or all calling information by one button
Rechargeable 400mAh battery for the watch receiver; USB charger port, no need to replace the battery, safe charging circuit; once for full charge it can last long hours; easy to charge; so it can work well for restaurant coffee shop;no need to worry about battery life
Feature:
1. T128 support 500 callers
2. 5 Notices Modes; Vibration+light; Buzzer+light; Light only; Vibration+buzzer; Vibration+buzzer+light; vibration only
3. Support "A-Z" English letter digits 0-9 show, 40 Optional Key Name and User-defined watch pager,
4. Built in rechargeable 400mAh battery for the watch receiver
5. Prompt Time Adjustable From 0-15s
6. Remove Calling Records Time Setting From 0-99s
7. Cycle Time Can Be Choose From 0-99s
8. 3 call records can be set to show at the same time
9. Support set area or service type name
10. T128 can accept 200 meters long from call button in the open area
More Advantages
Wireless Technology
Restaurant paging system use RF tech with small size design.
Advanced Chip
Wireless calling system adopts advanced chip to maintain signal stability; 108dbm receiving sensitivity; less signal interference; also it can support maximum 99 channel receivers, helpful for your business range.
Define key name
40 optional key name + user-defined, you also can program the original Key "pay, order, call,cancel" etc. to other key name, even can be people's name, such as Christopher, Alexander, etc. and maximum length of custom words is 12 Letter
Check calling records by UP/DOWN button
Time and Date Adjustment
Through the button, you will see the current time; it shows detailed hours; minutes; seconds; year and month.
and they are all can be adjustable; it can let your choose from hours to minutes to seconds and to day to month to year.
T128 Pagers System
Clock and alarm clock function
Rechargeable battery, super standby time (about 2 days)
About 4 hours full charge
Note: Wireless receivers for restaurant,coffee shop,hotel, service alert system
Solutions: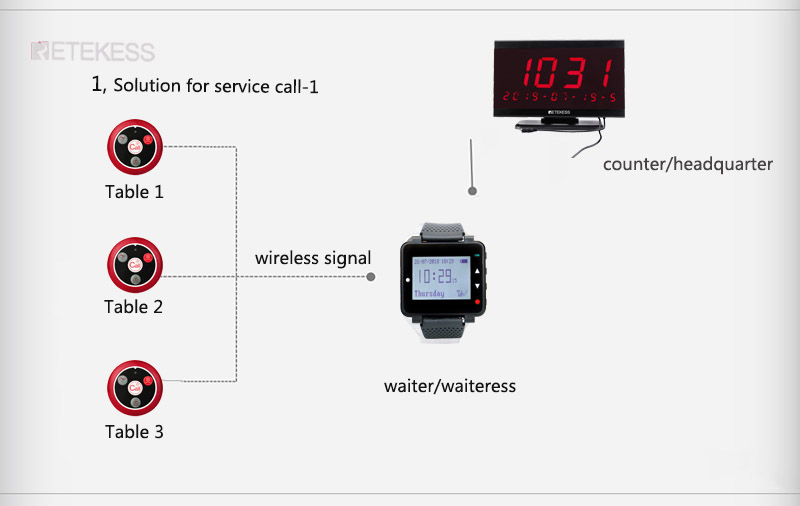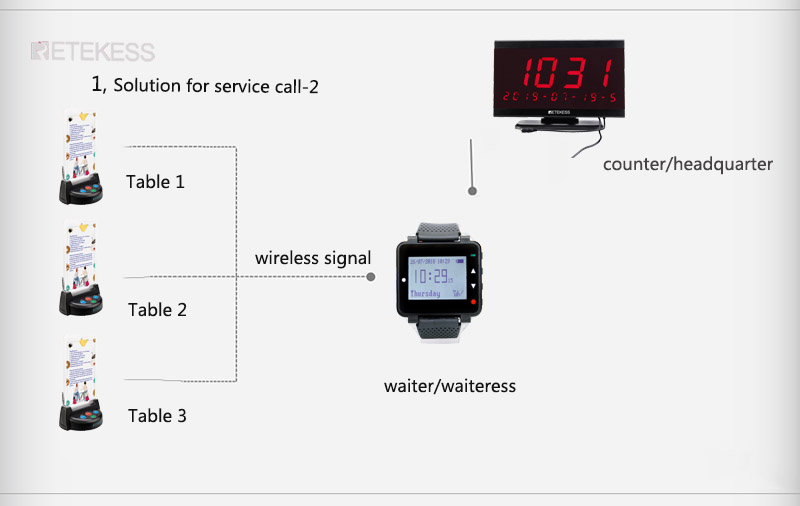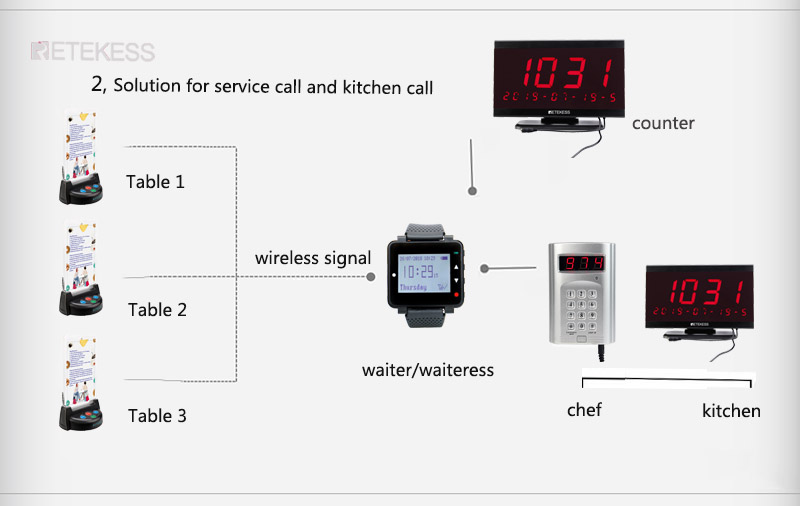 Applications: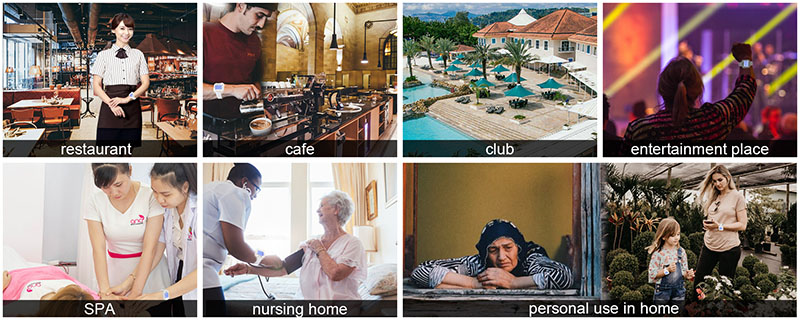 Production process: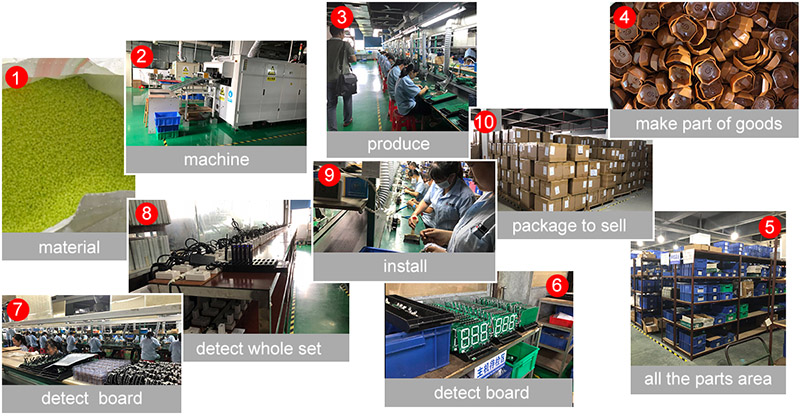 Please fill in your procurement needs and contact information
Specification:
Operating Voltage:DC3.7V
Battery capacity: 400mAh
Receiving sensitivity: -108dbm
Display method: LCD
Prompt mode:vibration or buzzer
Adapter: 5V 1A
Watch net weight:44g

Package List:
1x Watch receiver
1x USB cable
1x English User manual


Q: How many pieces call button can work with one watch receiver?
A: It max supports 500 pieces.
Q: Does the watch receiver support rename the call button?
A: Yes, you can name the key of the call button, and the max character is 12.
Q: Does the watch receiver work with 4-key call buttons?
A: Yes, you can set the work mode to multi-key mode.
Q: Can i pair the 3-keys call buttons with 3 watch receivers?
A: Yes, please choose the type to single-key.