Touch screen, stable signal 4 keys-order, call, pay, cancel Working range up to 200M Ideal for restaurant, bars, cafe shop, SPA and so on Easy to install and replaceable, Powered by 4pcs 1.5V AAA battery(not included)
Only
100
left in stock - order soon.
Retekess TD001 table button with four keys ideal for restaurants,cafes,SPAs,salons, bars and so on. The advantages of using the wireless table button are faster service, increased table rotation, greater customer satisfaction and increased overall revenue.
Four Key Functions
There are Call; Cancel; Pay; Order functions to choose from; so it can improve the working efficiency especially for restaurant

Durable Use
It uses high quality PC material to be more sturdy

Stable Signal
The working chip use learning code type; so it can reduce the signal interference better

Long Range
It uses advanced chipset to increase the emission distance; the maximum distance can be 100 meters in open area

Replace Front Logo Freely
The pager logo can be pasted on the acrylic plate; and it can rise the impression for the business range

TD001 Table Pager
White color, simple and generous
Easy to be set on table
Wireless waiter paging system
4 Service types;
order; cancel; call; pay
Touch panel, easy to use
Change logo, advertising sticker or table number freely
all Buttons System
Call buttons powed by 4 Pcs 1.5V AAA battery
NOTE: battery for white table card are not included in our package; but it is easy to get
Solution:
You can buy wrist watch pager and host receiver. Waiter with wrist watch pager, counter with host receiver.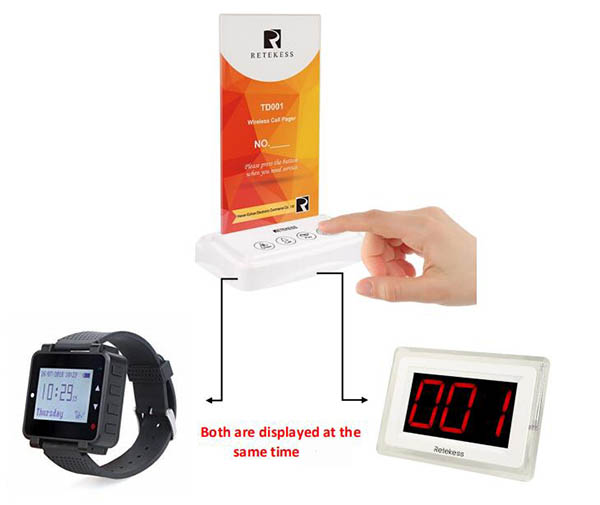 Please fill in your procurement needs and contact information
Material: PC
RF frequency: 433MHz
Modulation mode: ASK (AM)
Working chip: learning code
Power: 4pcs 1.5V AAA battery (not included)
Emission distance: 800 meters (open area)
Working temperature: -20 Celsius to 55 Celsius
Size: 180 x 108 x 46mm / 7.1 x 4.3 x 1.8 in
Weight: 212g / 7.5oz
Four-key on the table button: Call, Cancel, Pay, Order
Package Includes:
1 x Table button
1 x Acrylic plate