3 bands portable radio Support TF card (Max 64G) Battery operated radio portable
Only
2000
left in stock - order soon.


3 ways to select the station
AM/FM/SW stereo radio with a bass diaphragm, you can search for automatic and manual radio workbench, or directly input radio frequency search.
Support AUX input
AM FM radio with MP3 player speaker by 3.5mm AUX input; the small radio also can be used as a loudspeaker by USB cable
MP3 player
Transistor radio support TF card(max 64G), you can enjoy the music from MP3 files; You can listen to the music anywhere and anyplace. You can also use any 3.5mm earphone or headphone.

3 recording mode
3 recording quality: simple 64kbps; quality 96kbps; super 128kbps
Transistor radio bass sound with MIC recording and line-in recording radio recording etc.
90 minutes sleep timer
Portable shortwave radio with 90 minutes sleep timer; You will have a good sleep when listening to the radio. TR401 am fm radios with the best reception, built-in three languages Chinese English Spanish
Operated by a lithium battery
The built-in rechargeable lithium-ion polymer batteries can support up to 10 hours of use after full charging.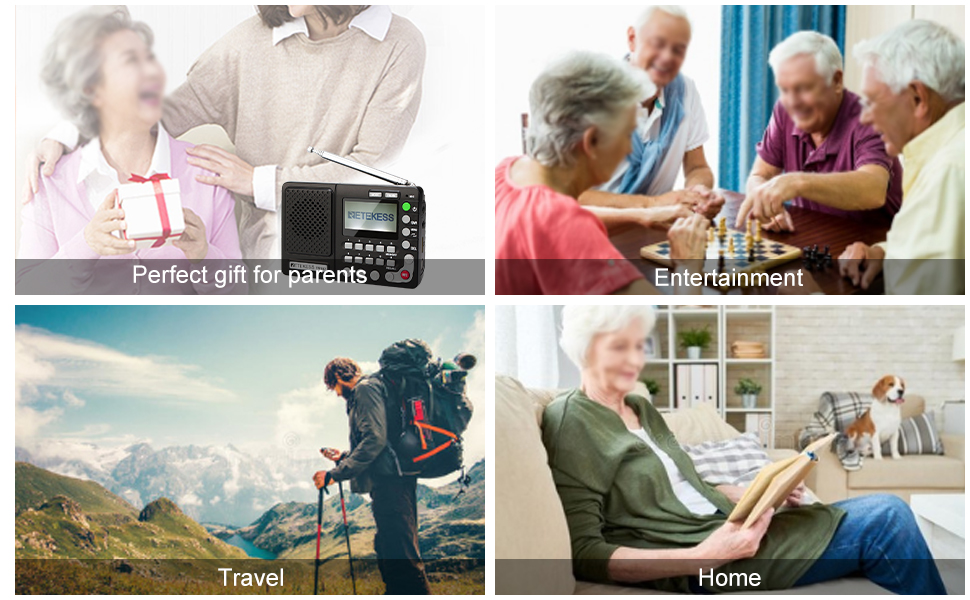 Retekess TR401 battery-powered radios, recorders, rechargeable batteries, and SD cards, please try TR-102 radio, bass effects for broadcasting, as a good gift for seniors. Large screen display frequency and volume.
Please fill in your procurement needs and contact information
Specifications:
Lithium battery: 800mAh
Charging Voltage: DC 5V, 500mA
Product Size: 120mm*80mm*23.5mm
Frequency Response:
FM: 87MHz~108MHz
AM: 520KHz~1710 KHz (9k / 10k AM tuning steps)
SW: 4.750MHz~21.850 MHz
Package includes:
1 x TR102 Radio
1 x USB cable
1 x User manual
TR102 portable radio support AM FM shortwave 3 bands; FM 87MHz-108MHz; AM 520KHz-1710 KHz (9k /10k step adjust); SW 4.750MHz-21.850 MHz; Easy to find local station;Easy to carry and operated for elders

MP3 player; You can store the music in the TF card; Then you can enjoy the music freely; If you remember the load number; you can punch in that number to get to song directly;You can also enjoy the radio with any 3.5mm earphone quietly

Transistor radio supports 3 recording mode; simple 64kbps; quality 96kbps; super 128kbps; Pocket radio bass sound with MIC recording and line in recording radio recording etc; You can store the recording in the TF card; Support Max 64G

Portable radios with clear LCD display; You can store the radio station automatically and manually; You can also store the station in the number keys; 90 minutes sleep timing give you a good sleep; 3.5mm AUX input and be used as a loudspeaker

Built-in 800mAh rechargeable lithium-ion polymer battery; the battery radio supports up to 10 hours of use after full charging; You can charge the radio from computer or connect phone adapter