Portable AM FM Shortwave Radio Battery Operated Radio Support TF Card, U-disk
Only
999
left in stock - order soon.
TR601 Portable radio with LCD display; only 4.57x1.10x2.87 inches,0.32lb weight, easy to carry and put in your pocket or shirt, TR601 am fm radio is the lightest and most compact type of this kind of radio, suitable for traveling, going for a walk, jogging, and traveling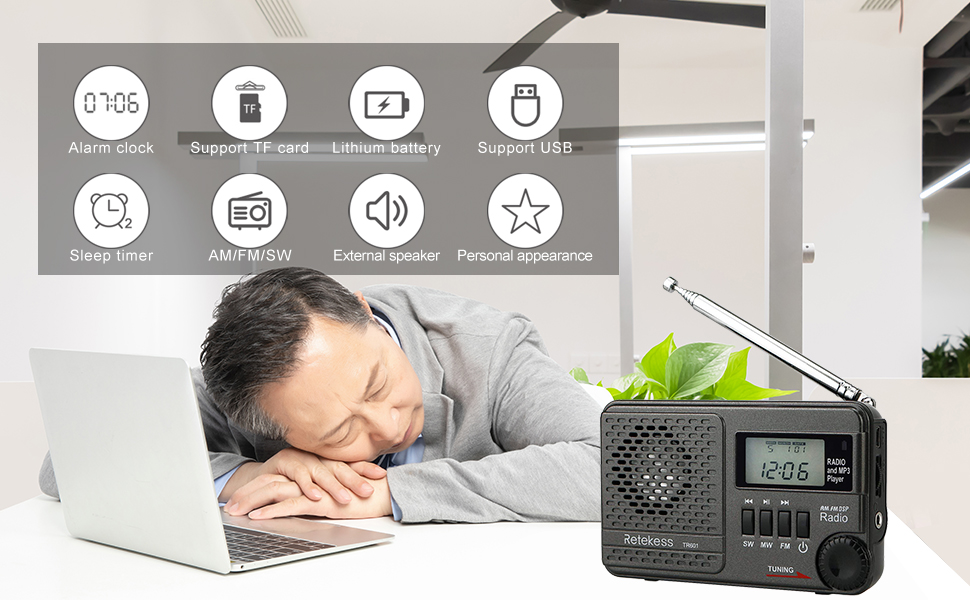 Good reception
This new transistor radios portable supports AM easily, plus FM and shortwave.
You need to use the tuning wheel to get your station, easy to operate. Best of all, it has precise digital tuning. You can easily find the local station.
MP3 player
Small digital radio with a TF card and USB port on the top, and it supports audio files in MP3 format. You can store the music in the TF card or USB disk. You can get great sound from the speaker.
3.5 mm earphone jack
TR601 small digital radio with a 3.5 mm earphone jack and you can enjoy the music or station with and 3.5 mm earphone.
If you don't want to bother others, you can put on your own headphones.

Portable radio size
TR601 portable radio only 4.57 x 1.10 x 2.87 inches and 0.32lb weight. Easy to put in your pocket, bag or shirt. The perfect radio for walking, jogging, traveling and any activities you like.
Alarm clock and sleep timer
AM transistor radio with alarm clock, sleep function for 10-90 minutes, waking you up on time that you know the time clearly. Portable shortwave radio supports calendar function,you can know the time day, month, year display on the LCD display.
Built-in rechargeable battery
Battery-powered radio can be charged by a USB charging cable(included). The digital radio can be charged by connecting with the computer, wall socket, power bank, and other devices.
Note: no need to buy extra batteries, batteries can be recycled.

Please fill in your procurement needs and contact information
Specifications
Tuning: manual
FM Sensitivity (S/N=30 dB): < 3uV
Signal selection: > 60 dB
S/N ratio: > 55 dB
Speaker: 8 ohm / 500mW
Antenna Length: 10-45cm
Package include
1 x TR601 Radio
1 x BL-5C 850mAh Li-ion Battery
1 x USB charging cable
1 x User manual