FM radio receiver with frequency: 50-108Mhz
Available to preset 2 frequencies and pick up in a quick way
Mini radio portable size
Powered by 2*AAA batteries
Only
1000
left in stock - order soon.
Retekess TR612 FM radio receivers are widely used for church translation, tour groups and many other events based on the preset frequencies, easy to operate functions and mini size.
FM radio frequency:
50-108Mhz, allow you to use the translation frequency 72-76Mhz to avoid interference.
Preset 2 frequencies with specific buttons:
Number 1 and 2 buttons to preset specific frequencies, no matter which station you are in, just press one of both buttons to jump to the specific frequency in a quick way. Improve efficiency
Large LCD display
The receiver is designed with a large LCD display, allow listeners easy to identify which frequency they are in.
Volume adjustable
Our audience can easily adjust to a comfortable volume level as desired.
Receiver powered by 2*AAA battery
Last for more than 8 hours, replace the batteries in a few seconds instead of taking a few hours to charge them. No worry about low battery all the time.
Listen through 3.5mm headphone
No outer speaker, only work with headphones. All the audience can listen to the speakers privately without disturbing others. The in-ear headphone is available to change the earbud to keep hygiene. Standard 3.5mm headphone jack allows receivers use their own headphone.
Mini radio with lanyard
91 x 54 x 14 mm small size, 39g light-weight, convenient to put in the pocket, or hang in the neck with the lanyard.
TR612 radio receiver applications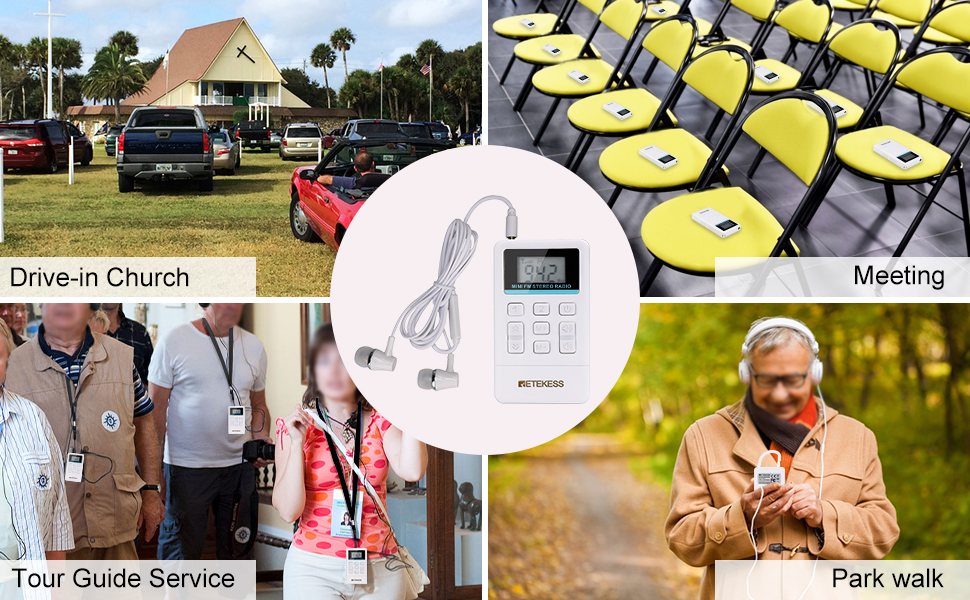 Please fill in your procurement needs and contact information
FM Radio Receiver Specifications:
Frequency Range: FM 50-108Mhz
Sensitivity: ≤20uV
Output Power: ≥20MW
Station Storage: 2
Working Current: ≤30mA
Shutdown and standby current: ≤50uA
Power: 2 x AAA battery(not included)
Item Dimensions: 91 (L) x 54 (W) x 14 (H) mm
Weight: body 39g
Package Includes:
1*TR612 Mini Radio
1* 3.5mm Earphone
1* Hand strap
1*User Manual
Q: Does it come with a headphone?
A: Yes, it comes with an in-ear headphone
Q: Can I preset frequencies?
A: Yes, you can reset 2 frequencies and one-click to select the desired frequency
Q: Is the volume is loud enough?
A: Yes, you can adjust the volume level as desired.