Wiegand 26 interface; Support 2000 users; Sturdy rugged keypad; Wiegand access control keypad; 0-99s adjustable door relay time;
Only
94
left in stock - order soon.

Wiegand access control keypad
Zinc alloy keypad case; backlight; waterproof; easy programming; adjustable door relay strike time; tamper protection. For detached garage; outdoor or indoor mounting on a wall or pedestal. Vandal Resistant Housing; each keypad is coated in the manufacturing process in order to provide this level of application flexibility. All to ensure long-term durability and high-quality performance.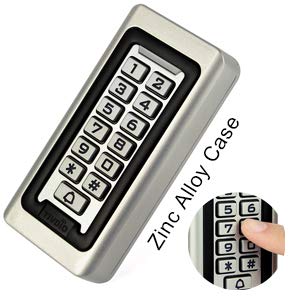 Backlight Keypad Feature
So you can see the keypad number in dark conditions or night; Access control keypad can be used for stand-alone access control or used as a reader. And there is an internal sounder that is used to indicate key press feedback, and Red Yellow Green LED to indicate operation.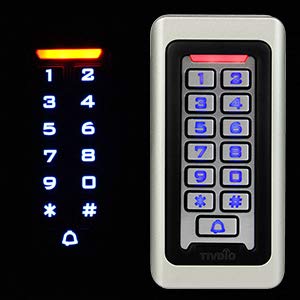 Access Ways
Supports Card, PIN, Card + PIN 3 ways to open the door. Keypad entry of a valid one to four-digit code activates one or both of the output relays which releases an electric door lock. And you can set door relay strike time 0-99 seconds.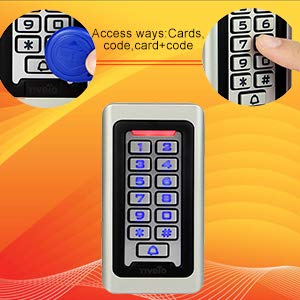 Advantages
Easy to use
Support maximum 2000users; so access control keypad can be used at office or business store. And it is designed to interface with most access control systems and provides a standard 26-bit Wiegand output; WG output W26 for card and W34 for codes.
Tamper Protection
Built-in light-dependent resistor (LDR) for anti-tamper, 0-3 minutes adjustable alarm time. So access control keypad is a good choice for commercial and industrial applications such as factories, warehouses, laboratories, small shops.
Weatherproof
Weather Resistant; waterproof design; Operating temperature range from -45-60 degrees centigrade. And the operating humidity is 10%- 90% RH; so it can work well in most weather conditions.
Large User Capacity
It supports most 2000 users; supports Card, PIN, Card + PIN 3 access ways to open the door; so it can be a good choice for factories, warehouses, laboratories, banks; also it has adjustable door output time, alarm time, door open time functions
Please fill in your procurement needs and contact information
Specification
Power Supply: 12VDC + 10%
Unlock relay: 12VDC/2A
Electric lock output: Max 3A
Alarm output: Max 20A
Effective Cards: 2000
Ambient temperature: -49-140°F
Password: 4 digit PIN code
Compatible Cards: 125KHz EM standard card
Card Reading Distance:1.18~2.36inch
Electric locking interface: Relay output or input of optional
Open access: 1
Doorbell button: 1
Interface to an alarm: 1
Add-in Reader Interface: 1 WG26 interface

Package Includes
1x Access Control
1 x Installation Kit
1x English User Manual
Access control keypad is sturdy rugged keypad; with zinc alloy electroplated technology;The circuit board is completely encapsulated in epoxy to be weatherproof; keyboard is waterproof so you can use it outdoor or indoor

Backlight Function; In dark locations or night you can read numbers light up;Light indication for different modes; Red light stands for Enter into programming mode;Yellow light for in the programming mode;Green light for Operation successful mode

Wiegand access control keypad can be as a standalone reader or keypad;0-99s adjustable door relay time; It is a relay output to open the door; so that you could connect this to a powered device without the use of some computing intermediate

Tamper protection;Access control system uses a LDR for light dependent resistor as an anti tamper alarm;If the keypad is removed from the cover then the tamper alarm will operate;Also you can adjust alarm time 0- 3 minutes

Easy to use;Full programming from the keypad;Support 3 access ways for Card;PIN or Card with PIN;access control keypad adopts Wiegand 26 interface top 2000 user capacity; it can be wall mounted