COVID 19 PROTECTION: It's important to keep your customers and staff safe. The problem is that barriers can make communication difficult. Our window intercom system, also known as speech transfer, window speaker system, wireless intercom system, or talk-thru system, can help. With duplex and half-duplex microphone/speaker systems, it makes the communication easier and keeps safe for both sides.
TW104 is the only duplex window intercom system, which means that people can talk at the same time. But If you need a high volume, you need to choose the TW106 wireless window speaker system. Let's check the 3 top good features of it.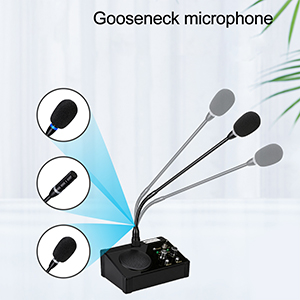 High power-5W main and out speaker
We have several types, window speaker systems, such as TW101, TW102, TW103, TW104, TW105 and TW106. Most of them with the 3w speaker, but TW106 uses the 5W speaker, so the value is very high. You can hear it with the long-range.
Professional conference microphone
The professional microphone ensures the quality of the sound with the high quality. The 4 core high-strength aluminum foil shielded wire also ensures the quality of sound clarity and stability. The TW106 is the only type, which we use the gooseneck microphone. So you have a high leave on the quality of sound, the TW106 window intercom system is the best choice.
Waterproof vision
Many customers use the wireless window speaker system outside, such as in pharmacies, ticket booths, parking lots. So they may put the out-speaker outside. In this way, the feature of waterproof vision is very important. Based on the needs, we update the TW106 to the waterproof type. TW106 is the only type, which supports waterproof. If you need this kind of window intercom system, pls don't hesitate to email us at support@retekess.com
The 3 features of TW106 make it more popular among the customers, If you need it for your business, pls contact us directly. We will supply the best solution.