Tour guide system
is known as the radio-guide, whisper system or audio guide system, it is widely used in the tourism, factory guide, education and training, international event, silent conferencing as well as the simultaneous interpretation.
Using a tour guide system ensures that everyone can clearly hear the tour guide is more and more necessary in a variety of industries. It not only makes communication smoother and easier but also makes your company more professional and staff & customers more satisfied.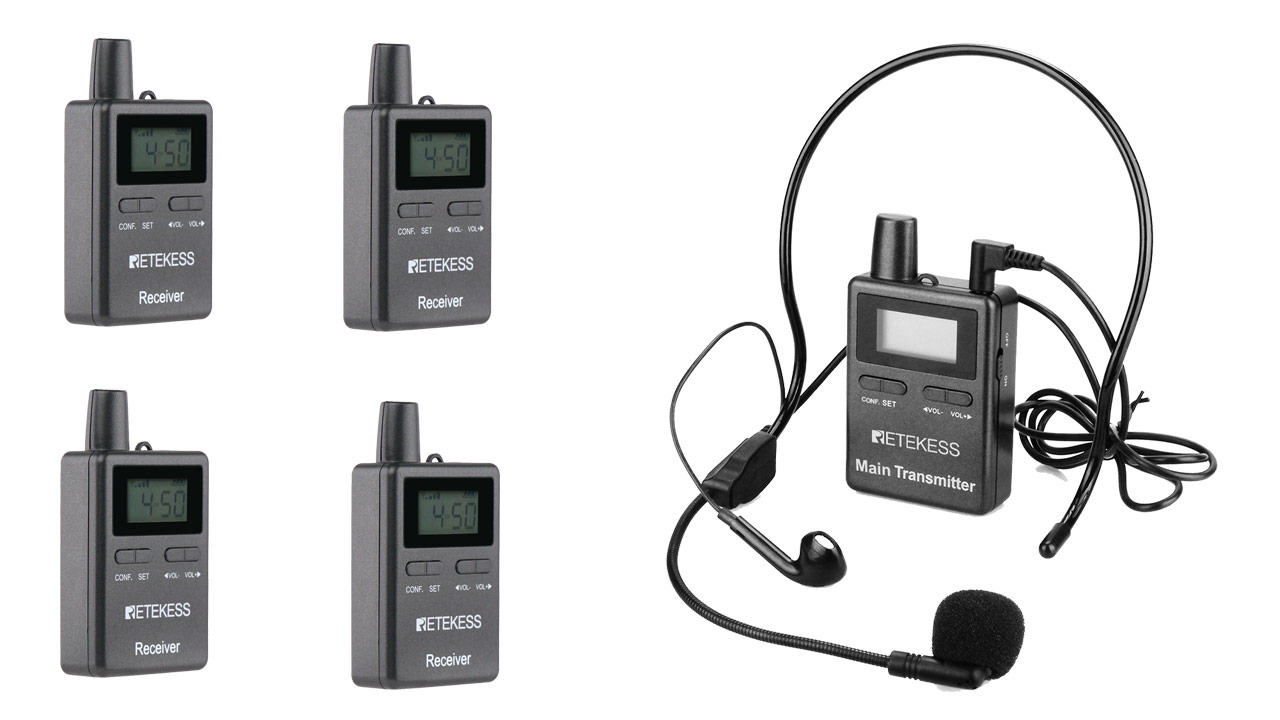 Here are 9 reasons why I recommend the TT105 audio guide system as group tours.
1. No extra charges
The audio guide system with the frequency of 2.4GHz, it is worldwide free of use, no license required.
2. Stronger anti-interference ability and longer communication distance
It adopts digital transmission technology, makes more crystal clear sound, no worry about the interference problems, communication range up to 150m in an open area.
3. Support two guides for one group as guided tours
Many groups may need two guides to work together for a large group of tourists. The TT105 audio system tour guide includes the main and vice wireless transmitters. The audience can hear from both of them at the same time. It allows two guides to take turns to speak, relieve the guides' fatigue caused by continuous speaking.
4. Two-way communication between the two guides
The two guides in one group can communicate with each other, each microphone for the transmitter is designed with a single earpiece. They could be communicated in time if needed within about 80m.
5. Wireless set the same channel for all receiver simultaneously
Efficiency is a concern for all companies, especially for events with a lot of people. It is very important for product management to set them in a quick way. For the TT105 tour guide equipment, you just need to long-press the "CONF" button of the wireless transmitter for 3-5 seconds, then the channels of wireless receivers will be the same as the transmitter.
6. Volume adjustable for the whisper tour guide transmitter and receiver
Each person adapts to a different volume than usual, this tour guide audio system has 4 levels of the volume available for the transmitter and 10 levels available for the receiver.
7. Allow 50 channels simultaneous use
There are 50 channels of the digital tour guide system, with no interference among different channels, ideal for working as simultaneous translation equipment. Also, each transmitter can be used with countless receivers.
8. Long standby time
The crystal sound tour guide system built-in 1500mAh lithium battery, able to work last for about 10 hours. No trouble with constant charging.
9. Comes with a complete line of accessories
Each portable transmitter comes with one microphone which designed with a single earpiece, each wireless receiver comes with one single earpiece. All of the whisper tour guide transmitter and receiver come with USB charging cable and lanyard.
Should you have any questions on Retekess Professional Wireless Tour Guide System, please feel free to leave comments here or contact us at support@retekess.com directly.