Many customers request the recording of the service and also how to check the performance of their staff. So we research and develop the TD124 wireless calling display receiver. With this receiver, you can pair with all the call buttons of Retekess. But it has a special table call button TD018 with the RFID card, the card is for your staff, so you will see the performance of each staff.
For the TD124 display receiver, it has the software, so you can use it on PC, connect the display, then you are able to check the in time service call and record and staffs performance.
What will show on the records?

If you don't use the RFID card, then it will show false and employee number as minus. So if you want to use the RFID card, you have to use the TD018, it has the place to scan the card, when they scan, it will show on the software, if over time, they will show unfinish and over time. For the time you can set it according to your situation.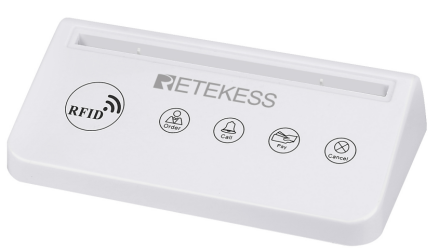 How many group numbers can show on the display?
As customers demand, they may need more group numbers to show on the dispaly. For the TD124, it can show 6 groups. If you need more, we can customize 10 group numbers for you.
How many call buttons it can support max?
It can support 999 call buttons in total, so you don't need to worry there is not enough call button if you want. And if you want to use with other Retekess call button, it is just can't use the RFID, can't show the performance of the staff.
How many key function does it support?
It is has total 16 key functions, so you can change it according to your need, when you change the key name with the display, when you call it, it will broadcast the name you change it.
If any other questions, feel free to email us at support@retekess.com.