Are you looking for a simple set of wireless tour guide system? The TT106 audio guide system is highly recommended to you.

It is the 2.4GHz digital technology group guide tours, can be used license-free throughout the world.
Appearance
The transmitter with classic black color, portable size, and LCD display. Built-in antenna and made of durable plastic raw materials. It comes with microphone and lanyard.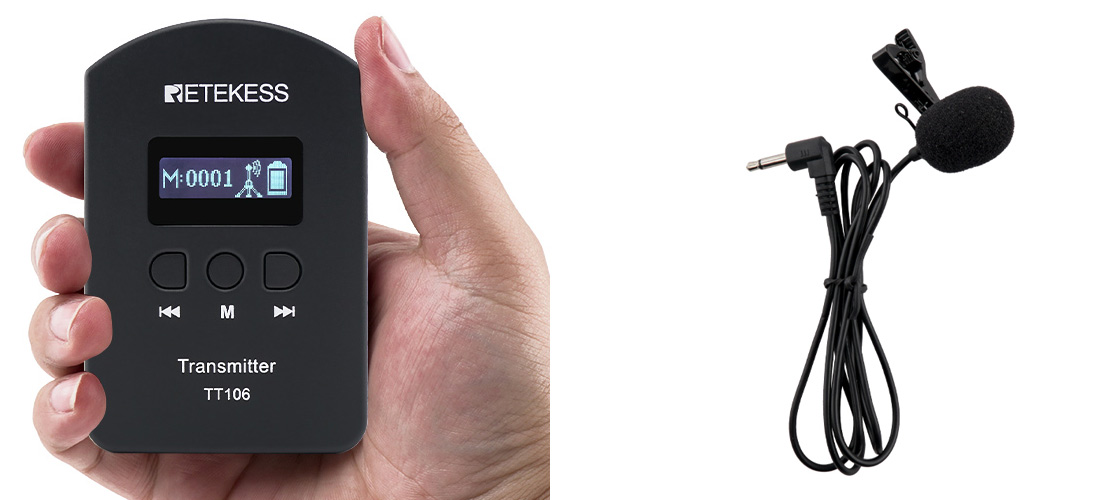 The receiver with special earhook design, no worry about long or short cables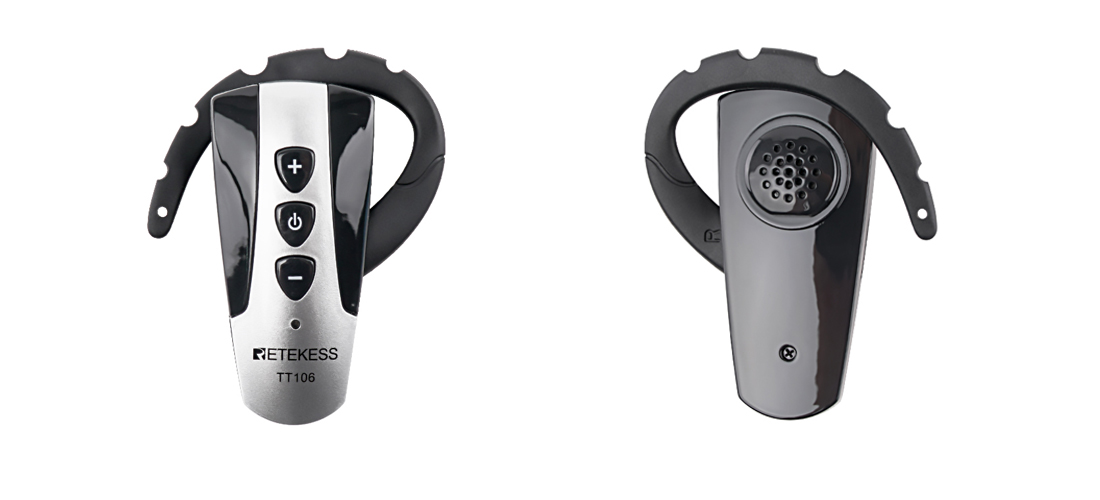 Learn more about the features about the Retekess TT106 factory tour guide system
Beyond the communication range reminders
It is very important for the listeners to know if they are within the communication range all the time. The headset receiver will make a drop of sound if it is out of the signal range
Set the same channel for all receiver simultaneously
Efficiency is the concern for all companies, especially for the events with a lot of people. Make the headset receivers power on, and put them within one meter of the audio guide transmitter. Long press the M buttons for 3 seconds until the 4 channels number flashes on the transmitter display, you will see the BLUE LED on the headset receiver light up all the time, then press M button on the transmitter to confirm. Then all the receivers will be able to work with the transmitter.
Wireless turn off all of the match receivers by pressing one button on the transmitter
It is also a great way to improve efficiency. Nobody wants to take time to check if all the receivers have been powered off after a long time working. By long-pressing the button

for 5 seconds until the LCD display is flashing, the transmitter can wirelessly turn off all connected receivers
One-click on the transmitter to make all receivers mute
If there is some time for the speakers do not want the listeners to hear from them while in a short rest or some other private discussion? If so, the one-click on the transmitter to make all the receivers' mute function is very important for users.
10 levels of the volume available to choose for the audio receivers

Different people may adapt to different volumes. With the adjustable volume of the receiver make listeners more comfortable and satisfied
Long-range with crystal clear audio quality
The TT106 tour guide system adopts the digital signal transmission, with anti-interference ability, the transmitter has the inside antenna, range up to 150m in the open area with a stable signal. Which make the wireless audio guide system widely used as guided tours(city centre, museum, noisy factory, field trip),Command Training (Firing range training, equestrian training, clay pigeon, game shooting, quad safari, stunt kite, on-site training), wireless translation system ( church translation, international events or some other events need simultaneous interpretation)
Are you interested in the special Tour Guide System? Welcome to contact us at support@retekess.com at any time.