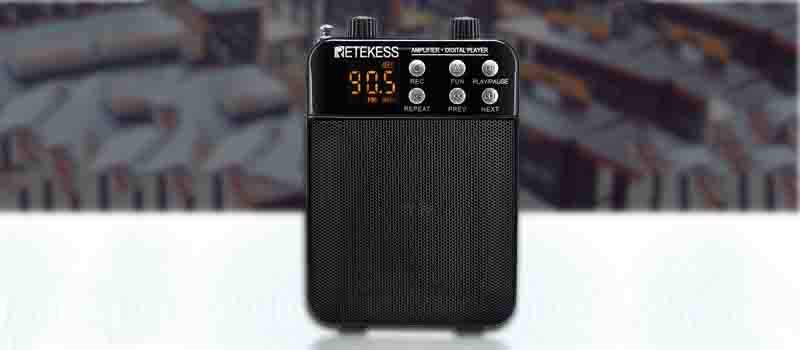 The teachers depend on their voices to reach all of the students. Their voice is the main instrument, and sometimes it seems like they're talking non-stop. Portable voice amplifiers are small devices that offer big benefits. They can save the voice and make work simpler.
We made several types of voice amplifier and just left RT619 as our Retekess voice amplifiers, let us check the more details for TR619
Retekess TR619 Voice Amplifier
This little amplifier is designed to save your throat. It provides clear sound with no distortion or static. It's suitable for about a 5,000 square-foot room or a group of 25 – 60 people. The compact size is great for clipping on your belt or pocket, and it's lightweight at 0.49pounds. It supports 3.5 mm AUX audio input, USB supports up to 64G, and TF card supports up to 32G.
Good features of TR619
* It comes with a waist belt to tie around your waist or your neck if you don't happen to be wearing a belt.
* The 1500 mAh lithium battery is rechargeable and works up to 10 hours continuously. It'll charge in three to five hours.
* You can use it to play MP3 audio with a TF (Micro SD) card up to 32GB or a USB flash drive up to 64GB. This is a great feature if you want to play music or let your students listen to a TED talk or other lecture or discussion that you've downloaded.
Best for: This is a good voice amplifier for classroom teaching as well as for singing lessons, coaching sports, guiding tours, presentations, and outdoor activities. If you teach physical education, coach a team, or go on many field trips, this is the amplifier for you.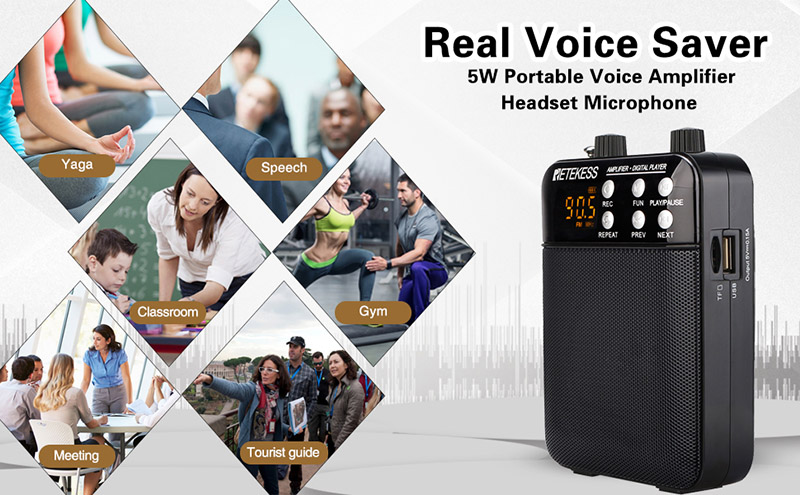 ---