Retekess TD107 wireless one-way door bell welcome alarm looks like fashion with a Robert appearance. It uses Infrared technology, more sensitive and accurate. It can be turned around 360 degrees. It has 3 modes, welcome mode, alarm mode, and light mode. It can be widely used.

It uses dual-color lights to increase product experience. Large speaker configuration makes the sound more clearly and loud enough to be heard. The volume is adjustable. It can support artificial synthesis or download sound, if you want to use your voice, you can DIY then upload to the device. The product default 9 audio files. We have more audio files for you. It supports English, French, German, Russian, Japanese, Korean, Thai. If you need other languages we can customize it for you.
It came with the double-faced adhesive tape, you can stick it on the wall or desk, it also has two holes, you can fix it with two screws which included in the package. The detection range is 3-6 meters, you can put it in the right place to detect more range.
Welcome doorbell mode
You can use it in your store when a customer comes in, the machine will make a welcome sound. That feels good for your customers' experience. If you don't want to use this mode at this moment, just press the power button to turn off for the moment. When you want to use it, just press the power button again to turn into working mode.
Alarm mode
When you close your store at night, if there is someone in, it will alarm, so the person may be scared and run away. When you back, you just change the mode will be fine.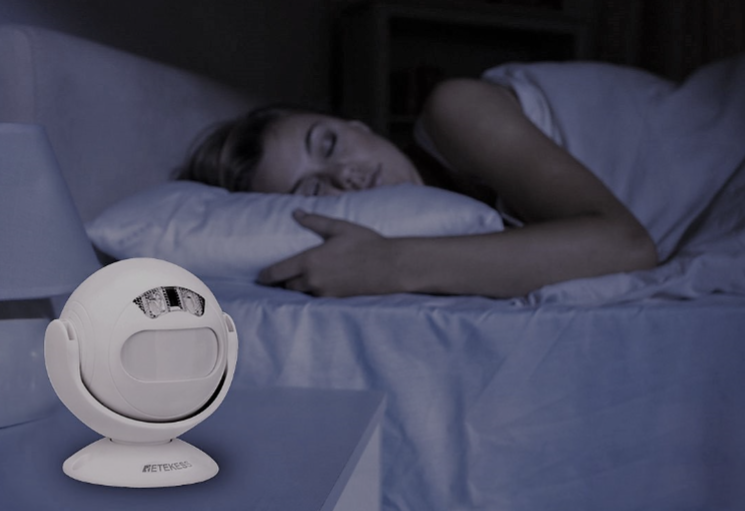 Night Light mode
Many people may wake up in the night. When you wake up and off the bed, the small device will detective you can light. So you needn't be turn on the light. That is much more convenient for using at home. You can also use it as an alarm when you not at home.
It can be widely used in restaurants, stores, warehouses, houses, offices, hotels, factories, exhibition hall, elevator, automatic megaphones, advertising promotions, etc..
Note: Do not put it in the rain, around air-condition and under the sun. It will damage this device.
If you have any questions about these products, feel free to email us to support@retekess.com