A good tour guide not only needs to patiently communicate the tour's attractions to visitors but also be concerned about their comfort and safety during the tour. Headphones and receivers that are used frequently are breeding grounds for bacteria and viruses, so steps must be taken to ensure that the audio tour guide device is clean and sanitary.
Retekess has 4 accessories that allow guides and tourists to feel hygienic and safe when using these products.
TT014 sterilization charging case
This charging case has a built-in negative ion generator, and in addition to its charging function, it also has sterilization and deodorization functions.
You just need to turn on the sterilize switch to disinfect 32 audio tour guide devices at the same time, and we guarantee to effectively kill bacteria, fungi, and viruses on the transmitter, receiver, and headphones, microphones, ensuring the health and safety of each user during COVID-19. (Note: TT014 sterilization charging case is only suitable for the TT110 tour guide system, if you are interested in this sterilization charging case, please confirm the model of your wireless tour guide system is suitable.)
Disposable foam earmuffs for headphones
Before the tour activity starts, you just need to put new disposable sponge earmuffs on the receiver's headphone earpiece, it is highly elastic, the guide can easily put the sponge earmuffs on the headphone earpiece, and it is soft and comfortable, which will not make the visitors feel discomfort while guaranteeing the hygiene and safety of the headphone.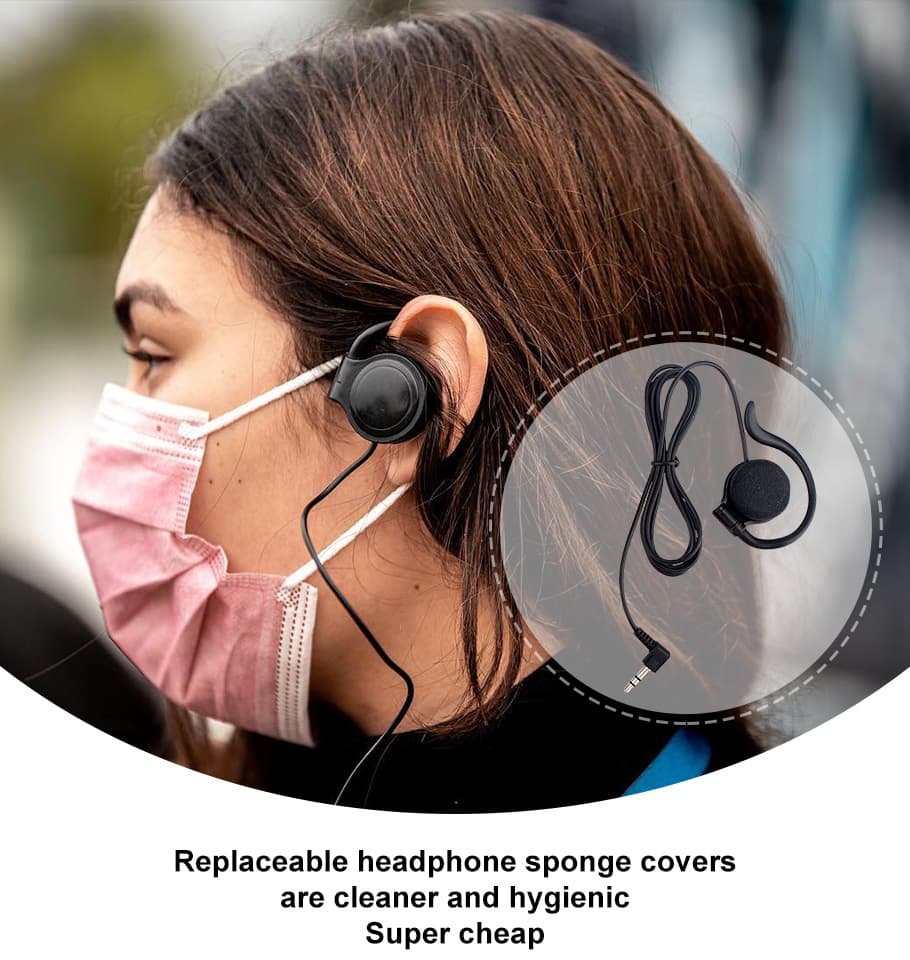 Moreover, the ultra-low price enables you to improve hygiene standards at a lower cost. (This disposable foam earmuff is suitable for most Retekess tour guide headset system receivers, such as the T130 and TT122 tour guide audio systems.)
This disposable 3.5mm single-sided headset allows visitors to listen to their surroundings with the other ear while listening to the audio, avoiding the dangerous situation of a speeding car coming up behind you without noticing. They can be worn in both the left and right ear and are suitable for people with hearing loss in one ear.
It is worth mentioning that although the headset is disposable, we still use thicker cables and durable materials, and do not neglect quality because of the low price.
Washable lanyard
To prevent the device from falling and free your hands, our wireless transmitters and portable receivers basically come with a lanyard. After a bit of use, the lanyard may get dirt, sweat, or bacteria on it, you just need to remove it from the device and wash it in the washing machine.
Please rest assured that the washable lanyard is made of natural soft cotton and multiple washes will not affect the service life.
These are the accessories to keep the audio tour guide equipment clean and hygienic, if you want to know more, or if you have other suggestions and needs, please send an email to support@retekess.com, we are glad to serve you.