It's almost the weekend and I've heard that several breweries have bands playing this weekend, which is sure to bring in a very large number of guests. Do you use a brewery pager system to keep your work organized?
We all know that breweries are big places, and in the past, the staff used to be frustrated by not being able to find guests. And from time to time, bands would be invited to hold events to create an atmosphere. It was crowded and lively, a time when many guests were too engrossed in enjoying the music to hear the shouts of the staff. But not anymore. Breweries using the pager system have solved these problems perfectly, without having to shout people's names, even when the crowd is very large and the music is very loud.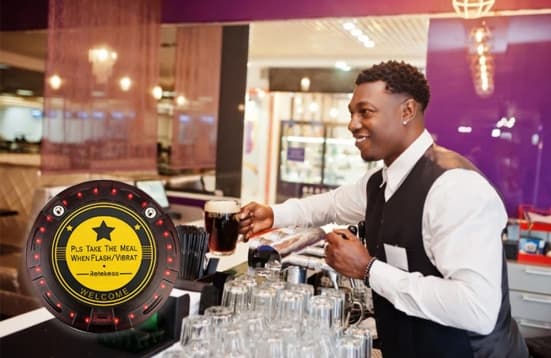 Customers can now order and get a pager, then visit the brewery, go for a walk on the surrounding beach, or find a favorite spot indoors or outdoors, enjoy the view and wait for the pager to beep. Or perhaps there is a band playing and customers can enjoy the band while waiting without fear of not hearing the beep, the superb vibrations will effectively alert them.
Retekess has three products to meet your needs, the TD103 Long Range Coaster Pager System, TD156 Waterproof Pager System, and TD159 Wireless Smart Coaster Pager System, they have an extra-long working range, up to 1000m or more in open areas; an extra distance alarm alert to prevent customers from stepping out of the working area or losing their pager; and a super-strong vibration, which can be a good reminder in noisy environments.
Feedback from some brewery owners using the pager system:
We're a Brewery w/ Kitchen where you find your table (inside or outside), place your order at the taproom bar, and then pick up your fresh/hot food at our kitchen window after your pager alerts you that it's ready. No Hour+ Wait List just to get seated! And you get to drink plenty of fresh craft beer brewed on-site while you wait for your food! We have parking for 150+ cars and can accommodate 300+ guests between our patio and dining rooms.
DOWNTOWN MARYVILLE SATURDAY(16th) NIGHT!!! the menu will be posted by mid-week!! We will be set up on the east side of the square and we will have a pager system going! Please feel free to check out the local watering holes nearby! Shooters, Black Pony Brewery, Burneys, The Pub, and The Powerhouse. I'm sure you can find some entertainment nearby, and some good food too!! Stop by, make an order, and take a pager.
That's awesome for you guys. However, every truck is different. We use them, and they're great for our truck, as we are a grilled cheese truck and it takes 6-8 min to make a sandwich. People wait and seek us out because our sandwiches are that good. I think everyone can kill it in their way. I especially love them at breweries where there are lots of people and loud music. I don't have to yell people's names.
If you want to pick a suitable pager system for your brewery, please leave a comment or contact us at support@retekess.com and we will give you a specific answer.