Solution for Restaurant
The world's top restaurants pride themselves on not only the quality of their cuisine but also the seamless operation of their establishment, including good communication. A restaurant can be loud and crowded, making communication between patrons and staff more challenging. That's where restaurant pagers come in: they eliminate obstacles to swift communication.
Many customers are impressed by the Retekess T-116 Wireless Calling System. With 20 pieces, this set is a cost-effective option compared to similarly priced models that include half as many pagers. Unlike other sets, these coffee-colored pagers are easily visible and won't get lost in a sea of black electronics. The eye-catching LED light across the top of each pager changes color when charging, so you'll never have to wonder if they have enough power during a busy night. This set also comes with a two-year warranty with fast customer service.
Retekess T116 is popular due to the fashion design, cost-effective price, and highest quality.
Long-range convenience
T116 adopts the newest technology to stay a stable signal, so the working range can be up to 500M in the open area. It will connect the waiters and customers well to improve efficiency. For the customers, they no need to gather together to wait for their orders. It is very important, especially in the COVID-19 period. The customer can sit in their cars or hang around to wait.
Multiple prompt methods available
4 Prompt Modes in all. It is Vibration with buzzer and LED lights flash; Vibration with buzzer; Vibration with light flash; buzzer with light flash.
Easy to set up, just need to remove the paper on the pagers, and press the "set" key to change the mode.
Keep easily
If you only use them in your busy time, such as in holiday. Just need to charge then full and put them out after 2-3 months later and charge them again.
2 visions
There are 2 types, 20 pagers, and 10pagers, you can choose the type that you need.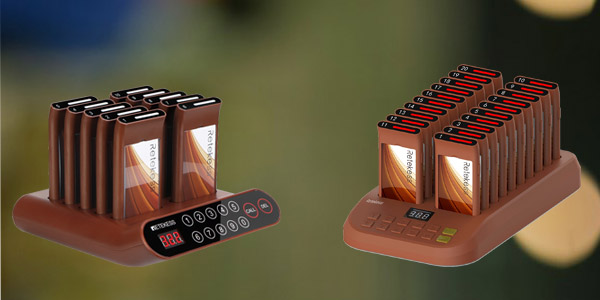 If you want to know more about the details of T116, pls click here. If you still have confusion, pls email us at support@retekess.com