What is FM radio transmitter?
A personal FM transmitter is a low-power FM radio transmitter that broadcasts a signal from a portable audio device (such as an MP3 player) to a standard FM radio.
They are often used in cars but may also be in fixed locations such as broadcasting from a computer sound card throughout a building.
In the COVID-19 period, how can we do the church service? The FM transmitter will help us solve the problem.
We can stay at home to avoid meet each other, keeping the safe distance with others.
Can i use the FM radio Trabsmitter for the church services?
Definitely yes. You can use it in the hard time to protect ourselves and our family.
Retekess sell several types of FM radio transmitter recently.
Let's check the FT11 FM radio transmitter :
Frequency increase 0.1MHz
Frequency stability ±10PPM
Output impedance 50Ω
SNR ≥70dB
RF output power 0mW-300mW
Support mp3 format FLAC, WAV, PCM, WMA, MP3
Support memory card Max 32GB
Power Built-in 1500mAh polymer lithium battery
Working hours 8-10 hours
Charge DC 5V 1A, Micro USB jack
Size 3.9 x 2.2 x 0.6 in
Weight 0.17lb
Or you can try the TR506, this system supports Stereo and works in a longer range.
Power supply: BL-5C Li-ion Battery 3.7V 1000mAh

Frequency stability: ± 10PPM

Stepped-Frequency: 100KHz

Emission power: (1/2/3/4 power)

16 hours / 10 hours / 8 hours / 5 hours

Charging time: About 5 hours

charging voltage: 5V

Stray and Harmonic Radiation: ≤-30dB

Audio distortion: ≤0.2%

Frequency response: 50Hz ~ 15000Hz

Input level: ≤-15 dBV

Modulation frequency offset: ± 75KHZ

SRN: ≥60 dB
We test it in our working place, the working range can up to 600-900ft. If you want to use it in a personal home, the working range can be shorted.
Many people said that they want to use it in drive-in cars or in the parking lot. They can set in their cars to listen to the speech through the car radio.
But the condition of the working range, pls make your choice carefully. If the FM transmitter works to short, the listeners will not hear the voice.
if you want to check the more powerful FM radio transmitter, pls check the TR501, TR502, or TR505.
The goods news is that we have a new arrival TR508 in stock, This type has the FCC ID and fits the part 15 of FCC.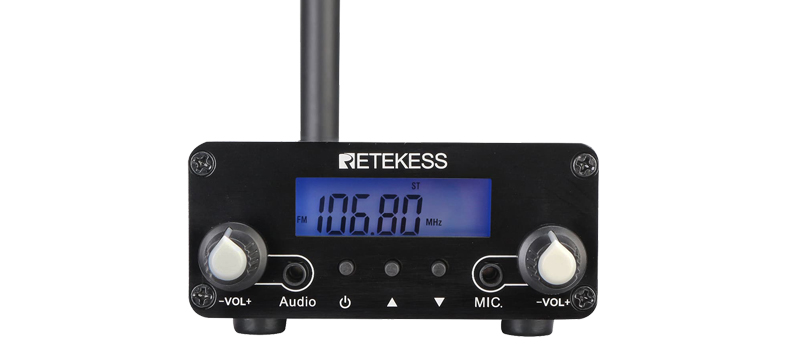 If you are not sure whether the TR508 is ok for you, pls check the other article, Send the email to support@retekess.com to ask for more details.
Take care