Retekess focus on wireless call technology for 13 more years, and we supply the solutions for many applications, such as restaurants, hospitals, clinics, coffees, banks, schools, governments, and so on. And our products are widely used in many places to improve the work efficiency.
Last week, one of the bank staff inquiries whether T114 wireless calling system work for the bank to call the customers to go to the corresponding windows. Sure that my answer is YES. For the T114 display receiver, it supports 999 numbers. So that you can program the window with the unique number and program the call buttons.
Once the bank staffs press the call buttons, it will show the window number on the display with the number. You can hang the display receiver beyond every window or just hang one in the place, where all the customers will get the signal.
Let's check the reasons why you choose the T114 wireless calling system.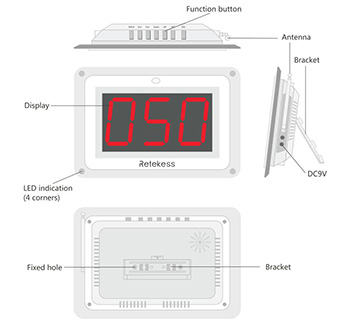 1, Cost-effective
The one display only costs less about $50USD, it is much expensive than the professional bank queue calling system. As I know one whole bank system is about $500USD, even more. So the T114 system is very popular and widely used in the place where the budget limited. If you need bulk, sure that you can email us at support@retekess.com to get the best price.
2, Easy to operate
Just need to program the call buttons with the receivers, then when you press the call buttons, it will get the signal and broadcast the window number and showing on the display. Here is the video, you can check the operating
3, Set the working mode by yourself
O: screen display 001~999, sound "Dingdong+No. 1~999 call"
1: screen display 001~999, sound "No. 1~999 call"
2: screen display A01~F99, sound "Dingdong+A area+No. 1~99 call"
3: screen display 011~999, sound "Dingdong+Room 1~99+No.1~9 call"
4: screen display 011~999, sound "Dingdong+Room 1~99+No.1~9 emergency call", this mode is used in hospital.
5: screen display 01Nb/C~99N b/C, sound "Dingdong+No.1~99 call". The function is 99 channels and shows the button function, N b/C.
Note: After finish the function, please power off and restart the host to ensure the function is confirmed.
4, With prompt music and light
For the T114, you can enter the Cd1 to set the prompt music, 3 options to choose from.
00: number speaker mode
01: music prompt mode
02: dingdong prompt mode
The kindly tip is that it will not prompt the customer number, but the window number, such as there are 3 windows in the bank, you can set it as "number+call".
If you want to show the customer's number, pls email us to get the other solution for your business. Our email is support@retekess.com