What is a paging system for?
Restaurant pagers are used to let diners know when a table is available for them, without them having to wait around in a fixed spot. They're especially useful in establishments where there is regularly a heavy flow of customers. But at this time, the competition between restaurants is fierce, how to make you different, the restaurant pager system will be the best choice.
How to choose the wireless pager system when you look into acquiring a restaurant paging system for your eatery. There are several actors to take into account.
Price
Range
Battery life
Warranty
After-sale service
Range
This one of the most important aspects of any restaurant paging system. Clearly, it refers to how far each pager unit can be taken while still getting a signal. Recently, we have 2 types, AM and FM, for the AM, the range is from 300-800M in the open area, such as the T115, and T116, both of them are AM, the range is very far and they are also very popular due to the cost-effective price. for the FM, the TD183 is our new arrival, it adopts FM technology, the range is up to 800-900m, The most important is that there are 20 pagers in one keypad transmitter, you can use it in your large business. The longest working range paging system is TD159, it can be up to 1.2km and the other good feature is that you can call the pagers via the PC. So just choose the right type for your business.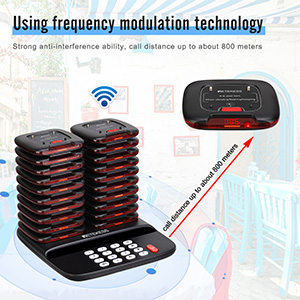 Price
It is also an important factor for choosing the guest paging system, but Retekess always supplies cost-effective products for your business, so no matter how many pieces do you need, just email us at support@retekess.com to get the price.
Battery Life
Make sure the battery will at least give you enough power for a full working day. The battery capacity of each model is different, most of them are from 300mAh, 360mAh, or 400mAh. The standby time is from 14-20 hours. For the TD163 and TD183, the battery capacity is 300mAh, the stand by time is about 20 hours. So good choice for your business which needs to run business for about a whole day.
Warranty
For the warranty, all the pager systems have a 1-year warranty, but pls make sure that it is failed by normal, not by humans. Then you can email us at support@retekess.com to get the best after-sale service.
Paging system for restaurant for Retekess pagers
At Retekess, we have solutions to suit a wide range of industries, such as restaurant, retail, factory, tourism, hotel, medical, conference, stage, bank, and so on, with products including transmitters, pagers, tour guide system, window speaker system and all relevant accessories.
With the 12 more years of experience in the business, we will support the best service and support, Learn more from Retekess official website now.