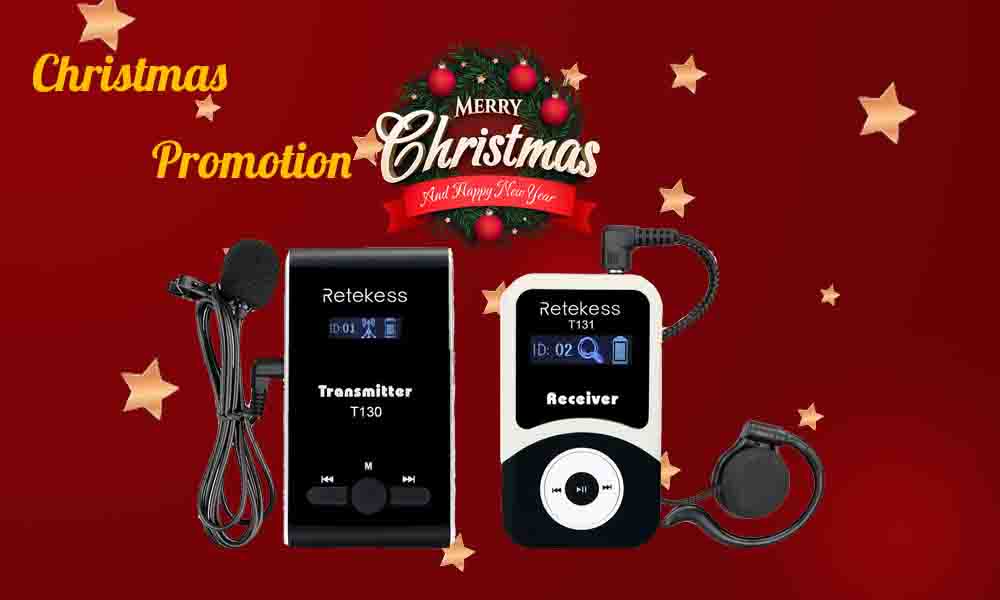 As Christmas is approaching, Retekess has carefully selected a series of T130 church tour guide system combinations for this Christmas campaign, in addition to individual products, a total of four combinations for you to choose. We hope to help your business and bring you a sincere Christmas blessing.Retekess T130 tour guide system, can support up to 99 channels to use. With a full charge, the transmitter can standby for 12 hours and the receiver can standby for 16 hours. In open areas, the use distance can reach 30m-60m, which is fully sufficient to support your use in church. One-way guide system phase-locked loop technology for stable signal and bright, clear sound. If there are people with different native languages among your listeners, you can also achieve simultaneous interpretation grouping by changing the channel, easily solving the problem of different native speakers getting the information of the speaker at the same time in the same event. The T130 Tour Guide System is perfect for use in churches during the Christmas and New Year period, when a variety of events are held.
A portfolio without charging box
In this combination, we offer you 1 transmitter and 6 receivers as well as 1 transmitter and 15 receivers. If the place you want to use is small and you need to use less products, we recommend you to choose the combination you need from this portfolio.
Tour guide system for church with charging box
In this combination we have 2 transmitters and 30 receivers and 4 transmitters and 60 receivers, each combination is equipped with a 32-bit and 64-bit charging box respectively. If you want to use a larger space or need more products, this combination form is not only more cost-effective, but also more convenient storage and storage.
During the Christmas campaign, we have prepared a special campaign page and product coupons for you, you just need to enter the coupon code "Merry Christmas" when you check out the products after shopping. If you would like to order additional quantities or learn more, please feel free to contact us.
---