Retekess TD157 wireless paging system is the most popular type due to the good features, but most of the customers also said that they need the mute mode, such as only with light and vibration.
As you know, we care about every customer's feedback and will do our best meet the needs, so we update the TD157 and make the TD175 wireless paging system in 2022.5.
There are 4 features that should be mentioned.
Prompt way of pagers and keypad
For TD157, there are 2 Prompt ways: Light and Beep +Light. For the keypad, customers can not change it. Based on the customers' needs, the TD175 wireless paging system has 4 prompt ways for keypads and 7 prompt ways for the pagers. You can set the TD175 as Beep, Vibrate, Flash, Beep and Vibrate, Vibrate and Flash, Beep and Flash, Beep and Vibrate and Flash.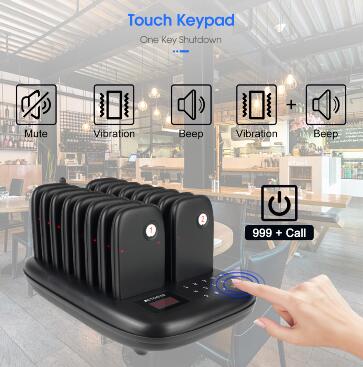 And the other feature is that you can set the keypad of TD175 to Mute, Beep, Vibrate. 3 ways, but for TD157, it doesn't support changing the prompt.
Prompt time
For TD157, the prompt time can be from 1-99S, but for TD175 wireless guest paging system can be from 1-999S, so the prompt time is much longer, if you want to aviod the customers for to return the pagers, you can set the time as long as it can. So when it beep, the customers must return the pager back.
Calling record
If you don't want to miss any calling number, checking the calling record is a good way. So we add the function on TD175 wireless paging system. It can be checked 10 recent called numbers by pressing △/▽ key in the call mode. Very easy to check the record.
Color of the guest paging system
We have 2 color options for TD157, but only 1 for TD175 paging system. SO if you do like the white one, you can check TD157 or TD172. And for other reasons, you can check it and choose the system for a restaurant based on your needs.