Retekess T130 and T131 are the most popular type of tour guide system, but some customers said that the working range is not very long, about 45M. So our engineer study it and made the new version. But you know the Retekess T130 and T131 are the most popular type, every 10 people who use the tour guide system will have one use the T130 and T131.
So how can we make things more reasonable?
Changed the outlook of T130S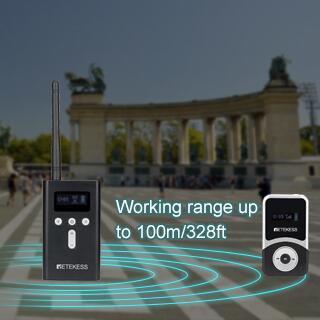 The size of the Retekess T130 is 3.9 x 2.2 x 0.5 in, and it is with built-in 900mAh lithium battery, and there are 99 channels in all. The working time of T130 is about 10-12 hours. But some of the customers need longers, so we changed the outlook and the battery power from 900mAh to 4200mAh, So the working time is up to 20 hours. For the channels, we also notice that few people need 99 channels, so we only left 49 channels. The frequency of T130 from 1-49 is the totally same as T131. So any of the 49 channels will work together with another one. Such as channel 2 of T130 can work with channel 2 of T131. In this way, if you want the system works longer, you just need to buy one RETEKESS T130S transmitter and pair it with the previous receivers. You can check the manual about how to pair the new transmitter and the previous receiver.
One key mute, one key power off
For the new versions T130S and T131S, we improved the mute and power-off ways to make the operation easier. Such as you can use one key to mute the transmitter, but for the T130S transmitter and T131, the function of powering off all the receivers can not work.
We tried our best to keep the good feature of the previous version and upgrade the new good features. So if you bought our T130 T131 models before. but need the longer working range, you can buy one new T130S transmitter. But if you also need the longers working range of receivers, you can add T131S to the previous system.
We always supply high-quality of sound and easy-to-use systems to improve the customer experience. If you want to get one cost-effective tour guide system, the T130S and T131S will be the best choice. Email us to get the best offer.