Easter has just passed. Did everyone experience a happy and enriching holiday?
On this beautiful Easter day, It was wonderful to see many families outing, and they played games on the lawn and searched for Easter eggs while talking joyfully. At the same time, many food trucks started to operate everywhere. They sold burgers, fried potatoes, turkey, beer, pizza, and other delicious food. When people are tired of playing and hungry, they can go to the food trucks to buy what they want to eat. Of course, in this festival where everyone is celebrating joyfully, queues are unavoidable. But! Food carts with pager allow customers to avoid this situation.
On Easter Day, a food truck in seaside Catlins had its busiest day since Christmas when they handled 140 orders in one day! Fortunately, they use a food truck pager system. when their customers place an order, they give them a pager, and when the meal is ready, they press the customer's number on the call keypad and the pager will beep, flash and vibrate to remind them to pick up their meal. During the waiting period, customers can go to the surroundings to play games, or go to other food trucks to buy drinks, and do whatever they want to do. Customers don't have to stand in line or wait for a call in front of the food cart, so they feel quite happy. The pager system is not only used at Easter, you can use it in various events, such as your food truck contracted for a family party, or hosting events, it can give your customers a great experience.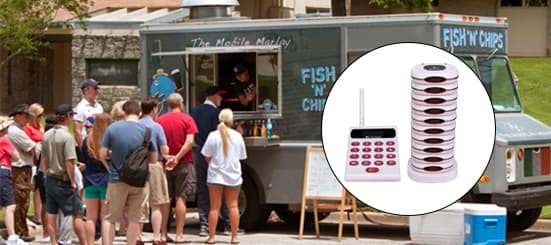 Retekess TD161 Wireless Paging System for food truck is the perfect choice for food truck management because the keypad with a built-in battery can keep calling for more than 4 hours without being plugged in. Using it can help avoid queues, notify people of pickups faster and increase efficiency. Contact us if you want to know more!
If you want to pick a suitable pager system for your food truck, please leave a comment or contact us at support@retekess.com and we will give you a specific answer.