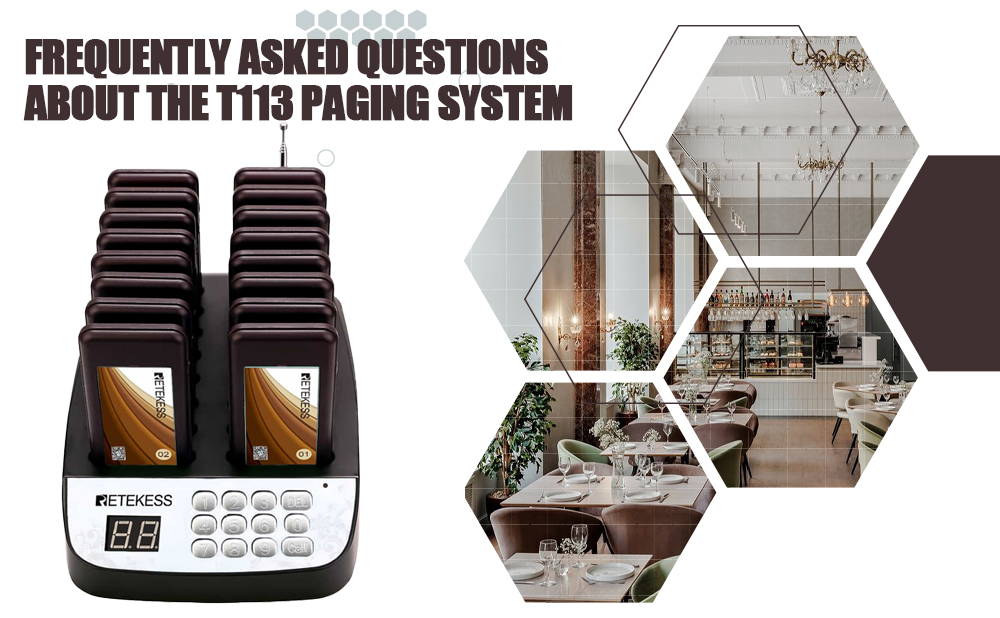 Have you encountered any doubts in the process of using T113 wireless guest paging system? If so, check out this article. Here are answers to frequently asked questions about the T113 wireless guest paging system.
1. How to set pager ID?/How to pair pager? / How to add additional pagers?
Press the Pager's Function Button (take down the plastic cover and
AD card paper, you will see the buttons) at center and Cancel button
at the flank at the same time, then the 2 red indicator lights on the
Right side will be on, thus the pager enters into the ID pair mode.
Then input the corresponding matching ID number and Press the
Call button on the keypad of transmitter, the pager will vibrate and
beep, which means they have paired successfully. If you input the
wrong number, just press the Dele.
You can also refer to the video in the link below
https://www.youtube.com/watch?v=_3Fd9dt-7zg

2. How to change the reminder mode?

Click the link below to view the video
https://www.youtube.com/watch?v=w8j5CbkS5B0

3. How to set keyboard ID?

Keep pressing the "Call" key of keypad and reboot your system. The
screen will flicker, then input a new ID and just press "Call" key again
to save, the new ID will auto cover the previous one. You can set a same ID number to 2 transmitters or more to let one pager could pair and work with multi transmitters at same time.
Note: All pagers ID also need to repair after you reset the transmitter
ID.
If you have other questions, please click here to contact us. Retekess is committed to providing you with the best products and the highest quality service.
---