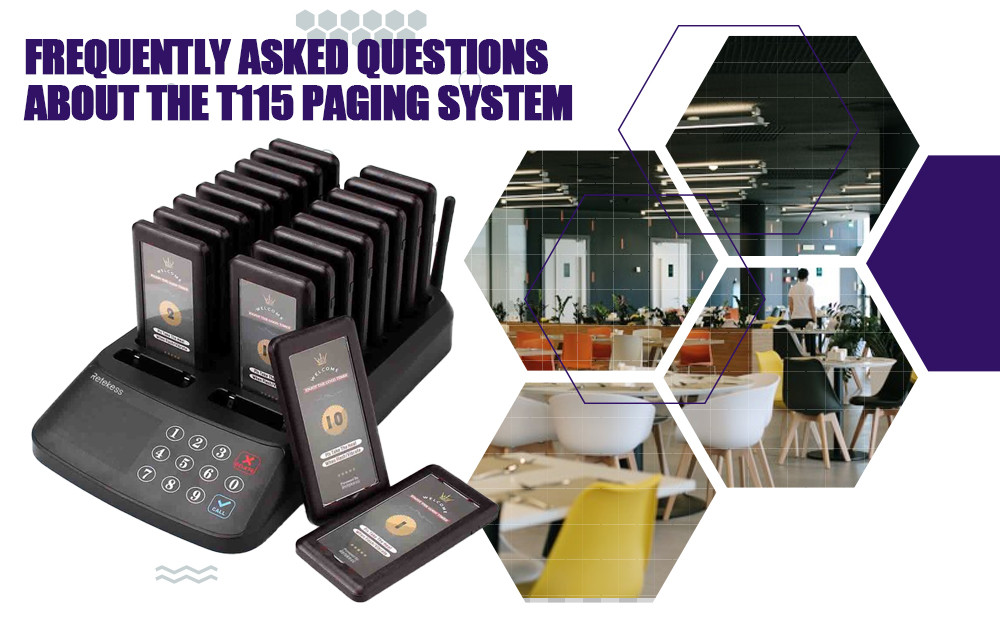 We often receive inquiries about the use of the T115 paging system, which is why we have compiled a list of frequently asked questions for our valued clients. This article aims to provide T115 paging system owners with a better understanding of how to operate the system.

1. How to pair/set pager ID?
Pairing---Press the receiver's Function key and Cancel key at the same time, now the 2 red indicators on the right side will be lighted on, input a number and press Call key on the keypad, the receiver will vibrate and beep, that means they have paired successfully.
Deleting---if we want to delete the receiver's number, just pair to another number
You can also refer to the video in the link below.
https://www.youtube.com/watch?v=oPvECHUy-tU
2. How to change the reminder mode?
Remove the plate and paper jam. You will see a small copper dot, press the copper dot, The indicator light on the handle will light. There are 5 indicators light, press copper dot 5 times, then all 5 indicators light are on, press the copper again to turn off the indicator light. At this time, press the button on the pager side, the setting is completed, this will exit the settings mode. This setting for vibration only and no sound is completed
You can also refer to the video in the link below.
https://www.youtube.com/watch?v=djmSUICxm6I
3. How to use two base stations to call the same pagers?
Generally, the ID number of each base is different. If you need 2 sets of products and 2 bases to control 36 vibrating cards at the same time. It is necessary to change the base's ID. When the IDs of the two bases are changed to be consistent, all customers receivers can be addressed.
set and change the transmitter base ID number. The specific settings are as follows:
1. Power off the charging base then power-on the unit.
2. Within 5 seconds after power-on, long press the DELE and CALL buttons to enter the setting state.
3. After entering the setting mode, the dot matrix displays the existing ID of the base, and then sets the required ID number by pressing the number from 0 to 9.
4. Press the CALL button to save, exit the setup mode, and change the ID number
If you have any other questions, please click here to contact us, Retekess is committed to providing you with the best quality service.
---