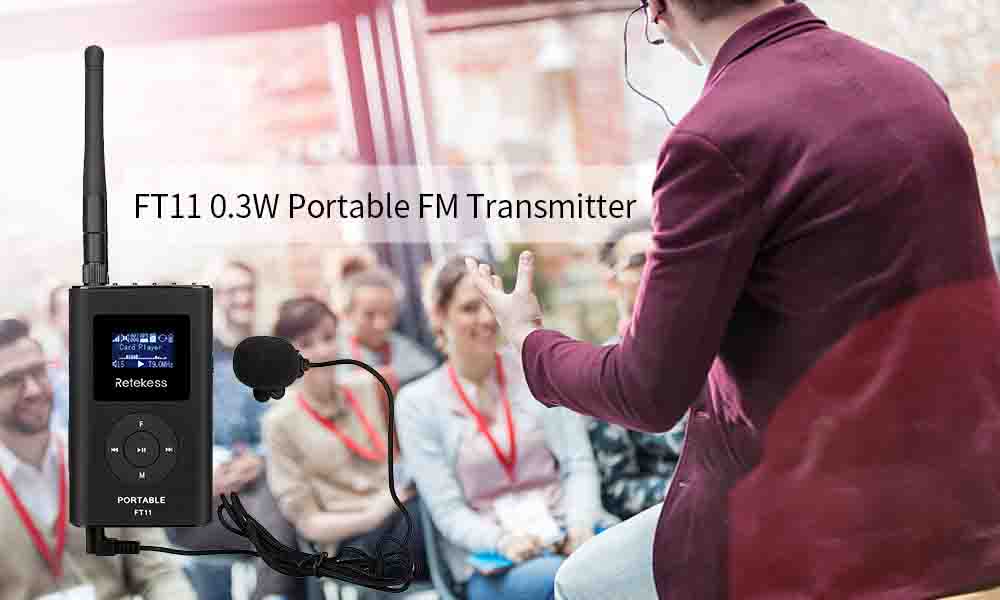 Due to the impact of the epidemic, policies restrict travel or participation in gathering activities, resulting in an increased frequency of FM transmitters, which are widely used in various activities, such as church translation, concerts, education and training, large conferences, and other activities. So that people can maintain a safe distance to receive and transmit information in the communication process.
Why choose FT11 FM transmitter?
Long working hours
The FM broadcast transmitter has a built-in 2000 mAh polymer rechargeable lithium battery, which increases the battery life. Fully charged can work continuously for 6-8 hours, without worrying about the power problem. The thickened copper core USB cable makes the charging speed faster, which is beneficial to improve work efficiency.
Preset frequency
Supports storage of five commonly used transmission frequencies, with five dedicated storage buttons to quickly store the desired frequency, the next time you use it, short press the button to quickly call up the desired frequency.
Support TF cards
Insert a TF card to play audio, enjoy your favorite music, support a maximum of 32GB.
One transmitter can connect to countless receivers
It can be used with FM radio receivers, operation simple, just tune them to the same FM channel. one transmitter can be connected to an unlimited number of receivers.
Aux and Mic input
You can connect audio equipment with a 3.5mm audio cable, and you can play background music while using the microphone to speak.
The FT11FM transmitter can help you solve the communication barriers between different languages ​​and maintain a safe transmission distance. If you want to know more details, please feel free to contact us at support@retekess.com, or you can purchase through the link: https://bit.ly/32jpORA
---