As the annual International Tourist Guide Day is approaching, Retekess would like to extend our best wishes to all tour guides.
Tour guides make up a large part of our customer base, and they are a group of people who deserve praise and admiration for their extensive knowledge, excellent tour guide skills, and enthusiastic service to provide tourists with a good tour experience.
Therefore, Retekess decided to give away 3 sets of new T130 T131 tour guide systems or $20 coupons for free to the participating ones in this wonderful festival.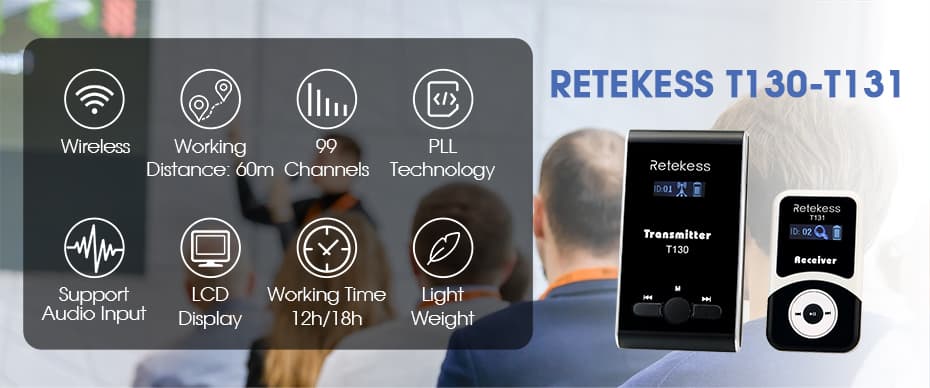 The T130 T131 tour guide system is our hottest-selling model, it has a stylish look, simple operation, portable size, and clear sound, and I'm sure you'll love it.
The $20 coupon can be used for any purchase on this site, available for $300 or more, with no expiration date.
Are you already anxious to know how to participate? The rules of the campaign are here.
1. Retweet the following posts on social media, just choose one social media platform to retweet.
2. Write an article between 2.15-2.28 and email it to support@retekess.com. The article must contain why you need tour guide systems. You can also talk about how fun it is to be a tour guide, whether you have used a whisper listening device before, what you look for most when shopping for a wireless tour guide system, and so on. (You can say what you want, we are happy to see your point of view. Please note: the minimum article should be at least 500 characters)
3. By 9:00 am on March 1st, we will select the top three participants with the most likes on their retweeted posts to receive a free new T130 T131 tour guide system (1 transmitter and 5 receivers), and they will only have to pay $30 for shipping.
For those guides who send us a article as requested but don't make it to the top 3, they will receive a $20 coupon and we will send you the coupon code.
This campaign is open to all guides in all countries, and every guide is welcome to participate!
A great guide can make a trip fun and memorable, and a quality tour guide audio system will give visitors an excellent and comfortable travel experience. Because these devices allow visitors to hear every word the guide says, even at a distance and in high-noise environments. Moreover, it gives visitors more freedom to move around without having to follow the guide closely to listen to the narration and without worrying about falling behind at all.
If you have any questions about the International Tour Guide Day event, or any needs about the tour guide systems, please feel free to email us at support@retekess.com, we have a professional customer service team to help you.