Why Choose TD110 Watch Pager for Your Business
The watch pager is widely used in restaurants, clinics, bars, supermarkets, factories, and service centers. Recently we have 3 models of watch pager, T128, TD108, and TD106. Due to the high demand, we decided to develop a new model in 2020. Due to the COVID, it is delayed, but it comes in 2021, Nov. Let's check the good features of TD110.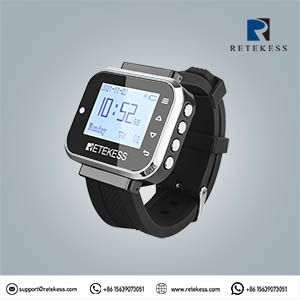 Multi-language
For TD110, there are 7 languages in all, They are English, Western, Italian, Portuguese, Russian, French, and German. So no need to worry about the languages. If you are from other countries and need other languages, pls email us to get the best models. For the original T128 and TD106, it only has English, even the TD108, each model only supports 3 languages.
Long Standby Time
Most of the Retekess watch pagers can last for about 12-24 hours. But for TD110 watch receivers, it can reach 72 hours. Due to the 300mAh 3.7V battery. The other reason is that Retekess TD110 support:
Timing switch: you can set the timing switch, this machine can set up to 10 groups of timings to realize intelligence.
Timing receiving setting: users can turn off the signal receiving module when they don't need to receive calls, so as not to be disturbed, and to save power. This machine can set up to 10 sets of timing on or off signals to achieve intelligence.
All the features will save the battery and extend the standby time.
Clock setting
The user can set up to 10 groups of alarms, and the alarms are still valid when the device is off.
High-quality chip
For the others watch receivers in the markets, most of them use the old chip, so the memory is small, most of them are 32K, but for TD110, it can reach 128K. It supports 999 call buttons. You can use it for your business. And it will be very helpful. Contact us to get the best price for the new arrival TD110 watch receivers.