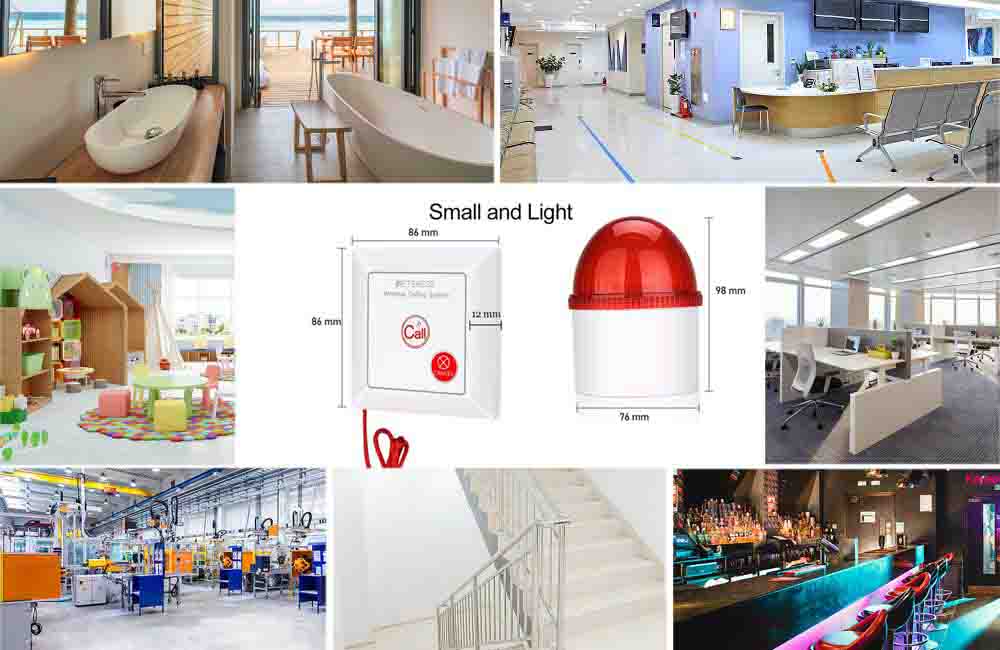 The Retekess TH103 security alarm motion sensor with light has simple operation and strong practicability. Equipped with a pull rope waterproof call button and a red light flashing buzzer receiver. The package contains screws and stickers, which can be easily installed on the wall or on the table, and can be used on a variety of occasions that require a one-key call to the alarm. For example, corridors in hospitals, rooms for the elderly and children at home, bathrooms, and entertainment venues where people gather such as game halls and bars can also be used to transmit signals in offices or factories. When encountering an emergency, you can quickly transmit a signal by pulling the pull-down rope or press the call button, and the receiver will draw people's attention immediately by flashing and buzzing.
In addition, some of its unique designs also help to provide customers with a better experience in using. The waterproof design enables it to function stably in the bathroom, pantry, and other areas. Don't worry about a damp environment or water stains that will cause damage to it. It supports three-level volume control, and users can adjust it according to the needs of the environment. The flashing red light of the receiver is strong and eye-catching, even the hearing impaired people can receive the alarm information in time, which is safer and more user-friendly. People can choose to pull the rope or press the button to alarm, and the alarm is set with the "cancel" button, which can cancel the alarm caused by misoperation, which is more convenient.
Tips: One receiver can be used with multiple call buttons at the same time. You can arbitrarily match the number of call buttons and receivers you need.
If you have any questions or needs, please contact us by email when you are free. support@retekess.com
---