Nowadays, people's life is getting faster and faster. In order to adapt to the intense work and life, more and more food trucks gradually appear in people's field of vision, providing people with opportunities to taste various specialty snacks when they are busy. It is also due to the convenient and quick ordering mode, as well as all kinds of food. More people will choose to settle their three meals a day in a food truck. A guest paging system can help food trucks to have a better performance.
How to manage long lines?
Many food truck operators often talk about: Every time they are busy, there will be a lot of people, there were long lines with a long wait. How should I deal with these people? The guest pager system makes this problem easy to solve. You only need to send a pager for each person who orders, and each customer's order will have a corresponding ID, which will help you manage their order without causing bad situations such as order confusion or loss.
How to provide better service?
Many customers don't like being in crowded crowds. They want to stay in a more comfortable area while waiting for orders. Or wait in the car, especially on cold winter days or hot summer days. The wireless guest paging system can realize the customer's vision. After ordering, customers only need to hold a small pager to go to any comfortable place instead of staying nearby and waiting. They can move around freely, and when the order is ready, you can call the ID of the corresponding pager to quickly notify the customer to pick up the meal. It's more convenient and saves you the trouble of yelling loudly.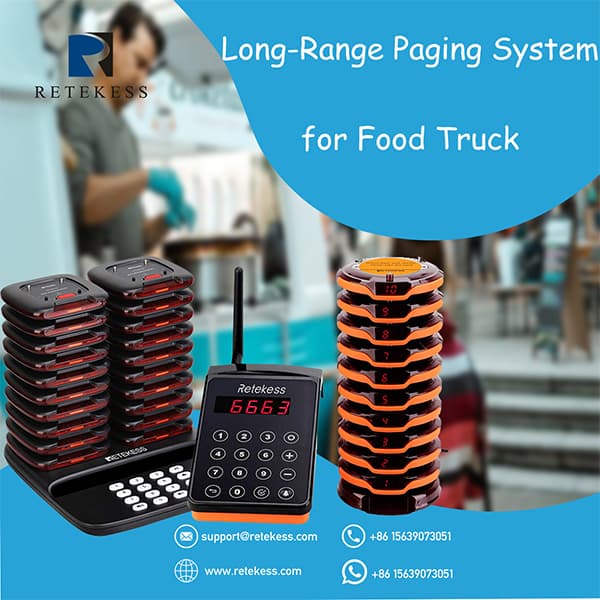 How to deepen customer impression?
Many models of guest paging systems launched by Retekess support custom logos. The unique and exclusive logo of your brand will deepen the customer's impression of your food truck. At the same time, you can also use the sticker to show special food or promotional information. This also helps increase sales. In addition, if you are worried that the distance will affect the normal call, you can choose to use the long-range pager system to achieve a longer-distance call.