The Benefits to Use Paging Systems in restaurants
1. Improve staff efficiency, no need to find waiting guests so that they can focus on the orders.
2. Increase revenue, save time, increase the table rotation speed, and serve more guests.
3. Improve the customer experience and ease queuing anxiety. Customers do not need to queue long but can walk around, waiting for the prompt signal of the pager and picking up the meal.
4. Easy to operate. No Wifi device, no need to download program.
5. Reduce front counter congestion and maintain social distancing.
Sincerely Recommend-30% off
TD163 support 2 keypad transmitters to call the same pager. It is suitable for both front counter and kitchen need to call the guest. The pager has low power remind, when it is in low-power state, it will show Lo- to remind you to charge. TD163 has 2 charging bases on 1 keypad so that it is more effective than other model. As for prompt mode, it has 3 modes including beep and lights and vibrate. Moreover you can set the speed and time of these 3 modes so that the fast and long beep will catch your customers' attention and call them back to pick up their meal. By the way, customers can turn off the prompting pager by pressing the button on it. Range is about approximately 1640ft(about 500meters)
Other Well-sellers-20% off
TD164 also support 2 keypad transmitters to call the same pager. It has 2 prompt modes: beep+flash lights and vibrate+flashing lights. And the time will be 30seonds. The charging slot is longer so that avoiding falling down. This system has recording call history, and you can check recent 10 calling history. The range is approximately 2624ft(about 800 meters)
TD183 with the keypad use touch screen which is durable and easy to clean. Use alcohol wipe to clean and disinfect. It has 2 prompt modes: beep+vibrate+flash lights, mute+vibrate+flash lights. The reminder will last for 30 seconds. It can also check recent 10 recordings. The range is approximately 2624ft(about 800 meters) However, it doesn't support 2 keypads so that if you need extra charging base for many pagers, please program them with the first keypad, and another keypad only be used for charging.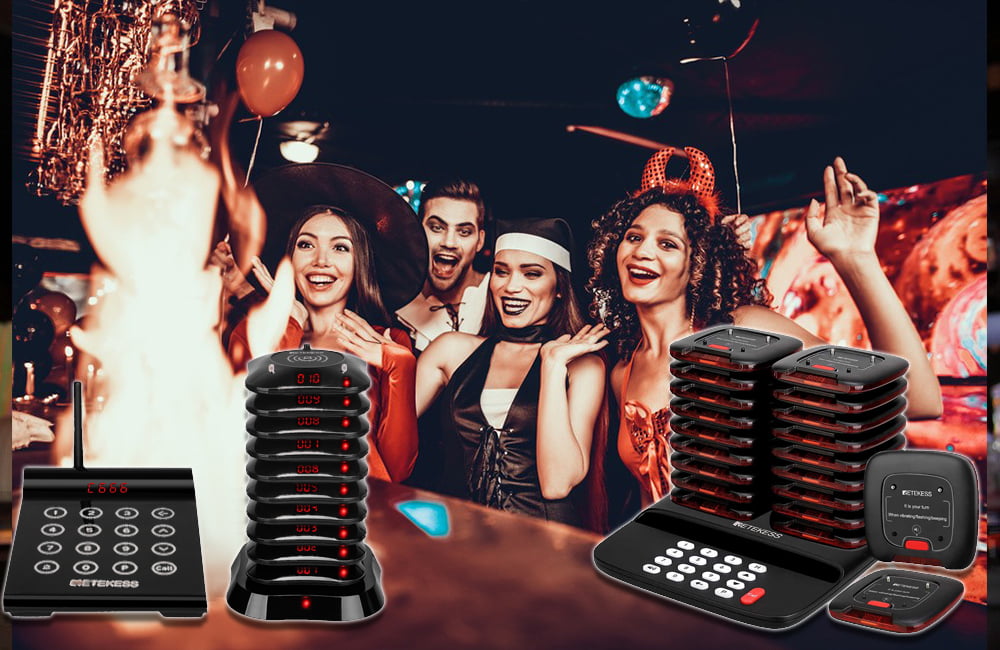 Advantages of Retekess Brand
1. Good Brand, stable signal
Retekess paging system sells well in Europe, America and all over the world. Customers highly praise our products and services. Debbie Penley said "Retekess is the brand we've been using almost 3 years now. No issues at all. We have 20 pagers. Our customers love it - super simple." No matter which product you choose, it can bring you stable, efficient service and perfect using experience.
2. Cost-effective with Halloween sales
Wireless calling system products are worth for the price, and are favored by many customers, and they are actively repurchasing. From October 26th to November 7th, we have a special promotion for Halloween. The maximum discount is 30% off. If you want to buy it, hurry up! If you want to order in bulk, we provide free custom logo service for customers who purchase 50 pagers and above.
3. Efficient consultation and after-sales service
If you still have doubts about the three products I have introduced, please contact us.
We will have an expert contact you with details. If you're worried about product problems after purchasing, we have a professional after-sales team and warranty policy to escort your consumption.
If you want to know more details, please feel free to consult our experts. If you want to know about the Halloween promotion, click here. If you want to go directly to the purchase page, please click here. If you have any questions, please feel free to contact us at support@retekess.com