Choose the perfect microphone for the church: Discover Retekess

handheld mic wireless systems

.
Enhancing the church worship experience requires advanced and reliable audio equipment, of which the handheld microphone system is an important component. Choosing the right microphone for your church can significantly impact the clarity and effectiveness of the message being delivered. In this blog, we'll explore why the Retekess portable wireless microphone is an excellent choice for churches looking for high-quality sound reproduction.
Typically, a high-quality wireless mic system ensures that sermons, Bible readings, and music are heard most clearly throughout the sanctuary. The success of these systems depends on features specifically tailored to the church environment.
Retekess TC103 handheld wireless microphones: Take control of audio quality:
1. Smart frequency selection: Excellent wireless microphone systems take into account the increasing competition for clean frequencies, especially in urban areas where churches may suffer from interference. The Retekess system supports an automatic search for the best frequency and selects the cleanest frequency from 2x100 available channels. This feature ensures uninterrupted signal transmission, enhancing the overall audio experience.
2. Seamless wireless connection: The automatic pairing function of the Portable wireless mic system simplifies the setup process. The microphone and receiver sync easily once activated, eliminating any complicated setup process. This convenience is especially beneficial for church staff who may not be audio experts.
3. Dynamic Hi-Fi speaker: High-fidelity audio provides immersive sound reproduction and powerful sound penetration. Whether it's a sermon, prayer or musical performance, the wireless mic system ensures that sound is evenly distributed throughout the venue and every word and note is heard with the utmost clarity.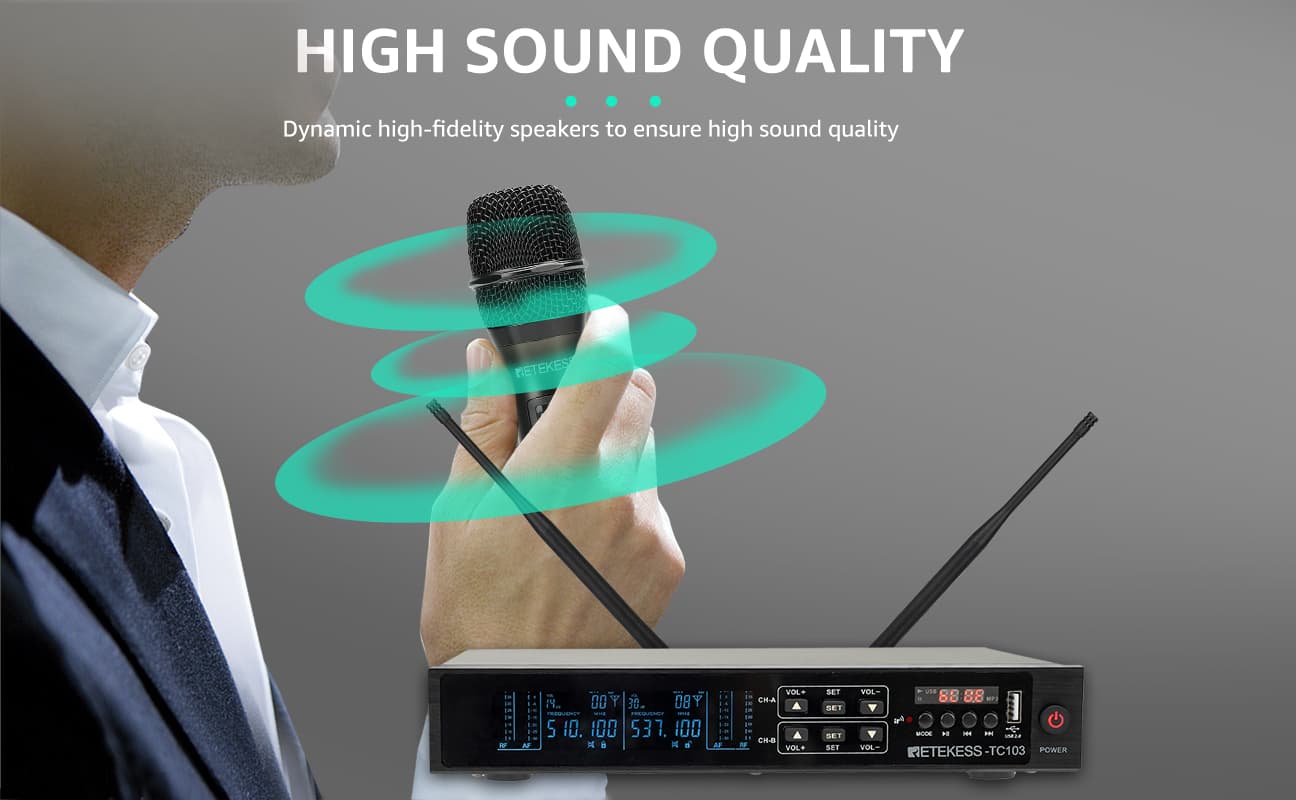 4. Wide range and connectivity: The transmission range of this Wireless microphone transmitter is 295 feet (90 meters), you can move freely around the church without worrying about audio loss or interference. Its comprehensive interface, including 2 XLR connectors and a 6.35mm audio mixer output, integrates seamlessly with existing audio equipment, simplifying the setup process for church technicians.
5. Versatile connectivity options: This system provides churches with incredible flexibility by enabling connectivity with microphones, Bluetooth V5.0 and USB flash drives. The Retekess professional wireless microphone system accommodates a variety of audio sources, from handheld microphones to smartphones and mixers, enhancing its potential for multiple applications during worship services.
6. Superior directional sound capture: One of the advantages of this Wireless vocal microphone is its ability to pick up sound only from directly in front of the microphone. This feature significantly reduces background noise, ensuring the intended message is conveyed without interruption.
7. Multifunctional display: The microphone system includes a clear and informative on-screen display. The display provides real-time information about signal strength, audio dynamics, volume, and microphone operating frequency. This gives you an at-a-glance view of your system's performance, ensuring you understand what's going on with your audio and can make adjustments as needed.
8. Rugged and durable design: Churches often require durable audio equipment, considering the potential for accidental drops or bumps during use or transportation. The sturdy metal casing of the Retekess wireless microphone set is anti-drop and anti-collision, ensuring its longevity.
The Retekess wireless microphone system includes a range of features specifically designed to improve sound quality and reliability in church environments. Its ability to reduce ambient noise, automatic wireless pairing, versatile connectivity options, smart frequency selection, durability, and extensive range all help deliver an enhanced worship experience. By investing in a microphone system with these features, churches can ensure their messages are amplified with crystal-clear precision throughout the sanctuary, allowing congregants to deeply connect with the sermons, prayers, and music shared during worship services.