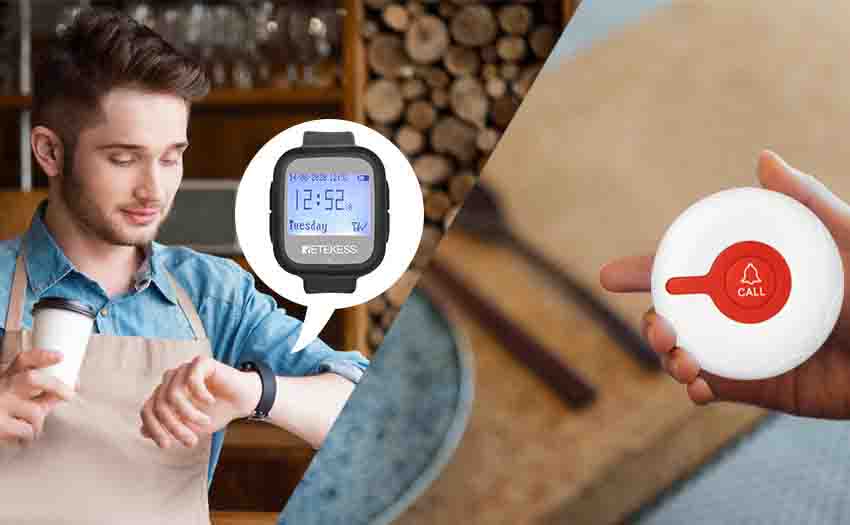 The large traffic, fewer waiters, and noisy environment in the nightclub make it very difficult for customers to order. Customers can't order in time, or even can't find waiters, which not only causes losses to the owner but also gives customers a poor consumer experience. Retekess service calling system can help solve this problem, allowing customers to quickly call the waiter through the call button. The waiter can provide services such as ordering and settlement for customers in need in time.
Crowded people and super high-decibel music seem to be the hallmarks of clubs. Usually, the waiter has to look for customers who seem to be in need and then cross the crowd to ask him if he needs help. If customers want to order or need help, it is very difficult to find a waiter in the noisy and crowded crowd. At this time, Retekess TD009 Waterproof Call Button with TD106 Waterproof Wristwatch Receiver will quickly convey the customer's needs to the waiter, instead of struggling to call the waiter amidst the noise.
When your bar has the Retekess service calling system, your staff can provide assistance to customers in need more quickly and accurately. And customers can call the waiters by simply pressing the Retekess TD009 Waterproof Call Buttons placed around the club. More efficient service also reduces the employment cost of the club.
Retekess TD009 Pager is more suitable for clubs due to its high water resistance. Even if it is accidentally sprinkled with liquids such as wine or juice, it still works normally, ensuring that customer calls are quickly responded to, and adding more revenue to the club.
In order to bring customers a better consumer experience, improve efficiency and increase revenue, get Retekess TD009 Waterproof Caller and TD106 Waterproof Wristwatch Receiver for your business!
---