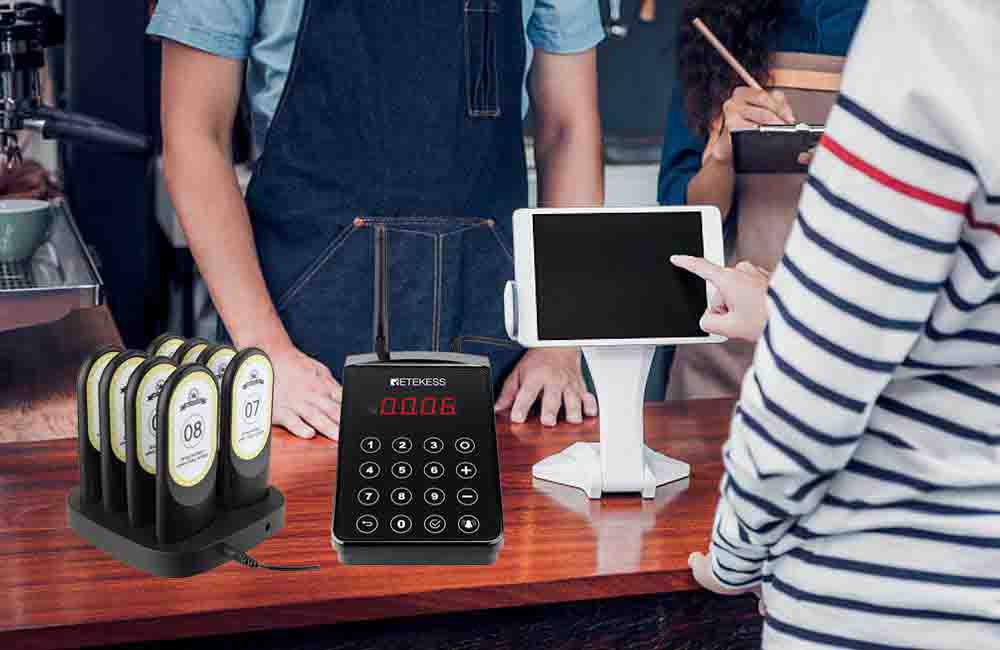 As a newly launched product, TD184 Guest Paging System is the first system in the Retekess slim guest pager system series that uses FM technology in addition to its small size, ease to hold, convenient charging, and easy access. This means that it has a more stable transmission signal and a longer transmission distance, which further optimizes the user experience and makes it more attractive and competitive.
In your restaurant, if any guests have complained about the noisy environment or difficult to call the waiter. Then you can install the system to solve these problems of customers and provide them with a better dining environment and a more wonderful experience. When the customer orders, you can give him a pager. Then customers can sit down instead of standing around the service desk worrying about missing a meal. When the customer's food is prepared, the waiter uses the launch keyboard to call the number corresponding to the pager, and the pager will remind the customer to go to the corresponding window to pick up the meal, which is more convenient. In addition, the charging base and keypad transmitter of the system are separated. If the restaurant ordering place and the meal taking place are in different locations, then the system can perfectly meet your needs and fit your business model better.
In addition, if your restaurant is experiencing a decline in profit margins due to inefficient employees. Then, choose this system will help you reduce your worries and increase restaurant profits. Employees do not need to call customers to pick up the meal after the food is prepared, and can easily send information to customers through the keypad transmitter to remind them to pick up the meal. Without too many employees, one person can complete these operations. At the same time, the "one button to shut down" function of the system will also help employees save operating time, make their work more efficient, and reduce their workload.
Come and get the system to benefit your restaurant!
---