Do you need simultaneous interpretation support for your congregation? As congregations become more diverse, today's churches often have religious services attended by people from different countries. When these people do not understand the language spoken at the service, it becomes increasingly necessary to provide interpretation services.
Purchasing translation equipment can be a major investment and sometimes a technical challenge. Over the years, Retekess church translation systems have helped hundreds of churches and religious organizations.
How the church translation system works
It's pretty simple, as you can easily see based on the picture below. First, the missionary speaks into the transmitter's microphone, then the interpreter listens to the missionary through the receiver, and then the interpreter uses the transmitter to deliver the translated language to the appropriate congregation. The listener's receiver needs to be tuned to the same channel as the interpreter's transmitter, and then they can enjoy the sermon in comfort. It's like setting up a mini-radio station in your church and letting people listen to their native language.
Note: Retekess simultaneous interpretation systems require translators, as many translators as there are believers who speak a language different from that of the missionary.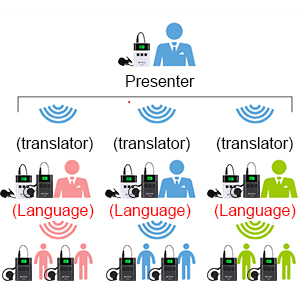 By the way, the church translation equipment system also has a hearing aid function with 10 levels of adjustable volume so you can use it for members of your congregation who are hard of hearing.
What is the best church translation system?
Clean and hygienic
Many churches regret purchasing translation devices because they later realize that people don't like to wear headphones for hygiene reasons. But the Retekess translation headset system saves you from this hassle. Our receiver's headset is ear-mounted, so it doesn't have to go in the ear - in other words, it's clean and hygienic enough that your congregation won't resist using it.
Crystal clear sound
Retekess tour guide audio system with phase-locked loop frequency synthesis technology, UHF band transmission, which makes them have a strong anti-interference and stabilization of the signal, to ensure maximum clarity of sound and reduce noise interference. After all, noise and static in the headset can not only affect the accuracy of the information the interpreter is listening to, but can also create a poor experience for the audience.
Customize the number of combinations
You are free to choose the number of receivers and transmitters. The receiver can work with countless receivers of the same model, which means there is no limit to the number of listeners you can have. If your congregation is growing, don't worry that the church translation equipment you purchased will no longer work, just add the number of transmitters or receivers.
Hand-free and portable
Our wireless translation systems all have included lanyards, lavalier microphones, or headset microphones, so you don't need to hold the device or microphone in your hands, which will give you freedom and comfort. Also, I bet each device is smaller than the size of your palm, the pocket size makes it easier to use, and we have 32, 40, and 64 port charging cases, he can put down all the devices and accessories, which means one person can easily carry all the translation devices a team will use.
In fact, the Retekess portable translation equipment not only meets all of these features, but is also easy to use, rugged and affordable. We can provide you with the best language translator system within your budget requirements.
If you need a professional customer service team to recommend a suitable wireless translation system for you, or have any other questions, please email support@retekess.com.