The Covid-19 pandemic is not only having a seismic impact on global public health but also causing chaos for the economy, with supply chain disruptions and labor shortages a big problem for businesses around the world.
Shifts that have taken place in the labor market are becoming more pronounced, with many people voluntarily quitting roles just as demand for workers rises as economies reopen.
Economists say changing demographics like aging and retiring workers are a factor behind the shortages, as well as border controls and immigration limits, and demands for better pay and flexible working arrangements.
As we all know the Christmas is coming, the restaurants must need more workers to service the customers. What should we do to face the risk?
Retekess guest paging system is a good option for the boss to reduce staff pressure, improve working efficiency and improve the customers' satisfaction.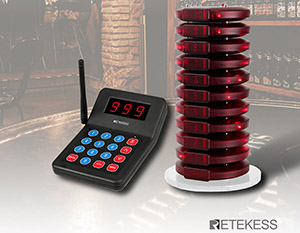 The guest paging system always contains a transmitter or charging base and pagers. You can buy the pagers based on your needs. Once there are customers order, you can handle one-pager to the customer, who can hang around your store. It will improve the customer's satisfaction for sure. You can press the keypad to prompt the customer to get their order in time.
In other restaurants, customers will sit to ask about the service. You can use the Retekess calling system to serve customers. The workers do not need to walk all the time to check the situation on each table but can get the signal from the watch receivers. It does help the boss run their business well.
Labour market shortages could persist for a good deal longer than the Federal Reserve expects, which will mean companies increasingly bidding up pay to attract staff.
So at this time the guest paging system and wireless calling system would be the best choice to help you run the restaurant business. If you want to find the best solution for your business, pls email us at support@retekess.com, we will supply the best.