We all know that when running a restaurant, customer satisfaction is important. To satisfy customers, food must be served efficiently. Even frequent customers are hard to see at a glance, not to mention new customers. Hence the table locator is very important for restaurants.
Why are the table locators important?
In a restaurant without a table tracker, the waiter takes a long time to find the correct customer with the correct food. That is, it consumes labor and prolongs the customer's mealtime, and the customer experience is not good. After using the restaurant table locator, the waiter can see which customer is waiting at which table at a glance and can quickly deliver meals to customers. It ensures fast delivery time and allows customers to eat hot meals. Customers will be more satisfied with such a service, and it also saves labor in the restaurant. It can reduce employees, improve efficiency and improve performance.
This system, contains one control host, 8 pagers with a table locator, and wires for connecting the locator. It also has an HDMI cable which you can connect with the screen to show the information. For the charging base, it can charge 8 pagers one time. The default number is 1-8, if you need more you can add more pages you want and you will need a keypad to pair the new pagers.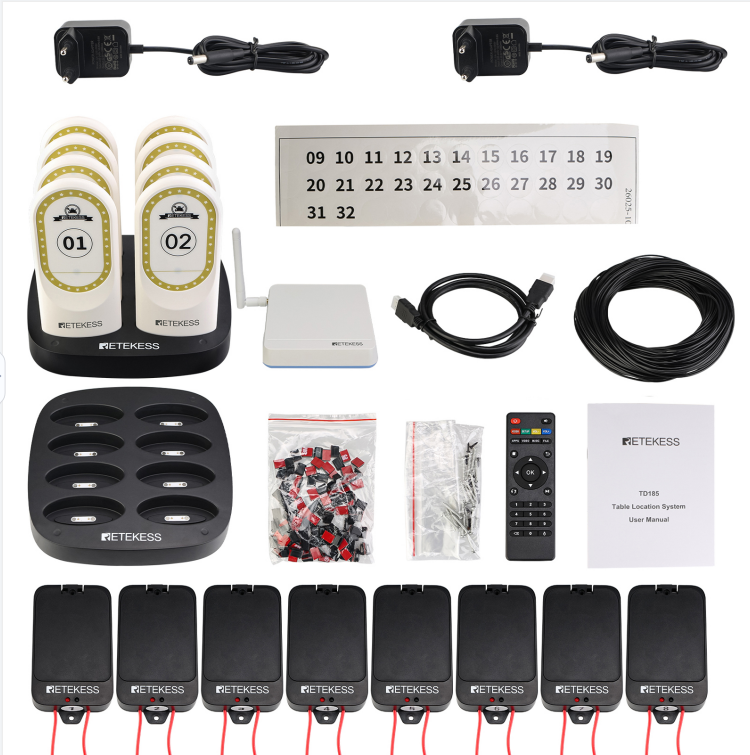 Before you buy, you need to confirm, how many tables you have in your restaurant and the size of the table. So we can check the length cable you need. You just connect the wires with the locator and put it under your table. Then no matter where the customer put on the table, the host will recognize the pager. So the service person can see it directly on the screen. It is very easy to connect the wire with the locator.
The table locator is really useful, you should have one for your restaurant.
If any other questions, feel free to email us at support@retekess.com