Retekess TM101 quiz buzzer system supports 32 buzzers max. This means one game or quiz supports 32 people involved. They are used widely now.
How to use the TM101 quiz buzzer system?
Typically, it is used in school classrooms as a quick-response quiz tool. It is also possible to accurately, justly, and intuitively determine the seat number of the responder in knowledge contests, cultural and recreational activities (response contests). Better promote the sense of competition in each group, and let the players experience the battlefield-like pressure.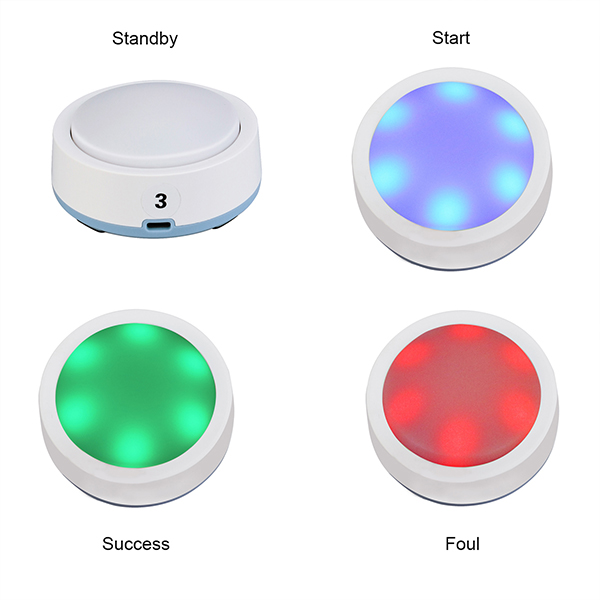 This responder has a total of 3 modes,
Normal mode-【1】
After pressing the [Start] button, the player directly answers. No 3 seconds countdown reminder, no voice reminder, and no foul judgment.
Voice mode【2】
Press [Start] to start the 3-second countdown, and there is a voice reminder. In 3 seconds, the answer is considered a foul and needs to be restarted.
Elimination mode【3】
Press [Start] to start the 3-second countdown, and there is a voice reminder, 3 seconds to answer is considered a foul but does not affect other players' continue to answer until someone successfully replies, or everyone fouls, or when the time is up, the answer is over The winner is a green light, the fouler is a red light, and the loser does not light up.
So you can choose the model according to your game or quiz.
In the quiz in the classroom, you don't have to worry about judging who raised their hand first. With this TM101 quiz buzzer system, the system can easily identify who pressed the button first, and the number will be displayed on the screen. And it also increases classroom fun and increases student engagement. Students will also feel more motivated. If in the game, make the game more transparent, there will be no cheating phenomenon. So you should have this answering system.
If you have any questions, please feel free to contact us at support@retekess.com.