Imagine going to your favorite restaurant with friends on a busy weekend. The restaurant is lively and full of people laughing and smiling. As you are talking about what you want to eat, someone walks by with a plate of food, and it makes you even hungrier. But because the restaurant is so popular, you'll have to wait an hour with your friends to enjoy the delicious food.
We have found that you have to wait in most situations when eating out. Best situation: your wait is very short and your turn comes after a few minutes, or you play with your friend while waiting and don't notice how long you've been waiting before it's your turn to eat. On the other hand, the worst-case situation is when you are kept waiting in the restaurant's waiting area, unable to go anywhere but to wait in place and keep an eye on the wait time, and you feel like every second of the wait is a long one until it is finally your turn. A better experience is a flash in the pan wait. Because when we're out with friends and family, we want to focus our energy and attention on them, not on the wait time. So how can restaurants give their customers a better experience?
In the past, restaurants would choose ways to remind their customers, such as calling order numbers, calling customers by name, sending text messages, and so on. But these ways had some drawbacks, such as adding noise to the restaurant, drawing attention to the wait, giving away mobile phone numbers, consuming mobile phone power, and customers giving up in the middle of the wait.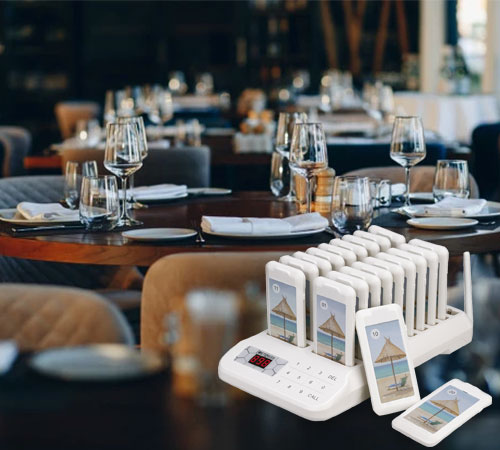 Nowadays, however, many restaurants are using pager systems for improving the waiting experience.The reason is that pagers are simple. When you go to a restaurant and there are a lot of people dining and you need to queue, the waiter gives you the pager and when it's your turn, the waiter sends a signal to it and the pager flashes beep and vibrates to remind you that your waiting time is over and you can dine! Or when you have ordered your meal and are waiting for the kitchen to prepare your food, you will also be given a pager and when the food is ready the pager will alert you that it is ready to be picked up! The presence of the pager system allows you to stop focusing on the waiting time and use it to do whatever you want.
From a restaurant's perspective, once you give a customer a pager, they are less likely to leave at will. The pager acts as a sort of lanyard, making the connection between the customer and the restaurant more responsible, while also improving the waiting experience for the customer.
If you want to know more about the Retekess pager system, please leave a comment or contact us at support@retekess.com and we will give you a specific answer.