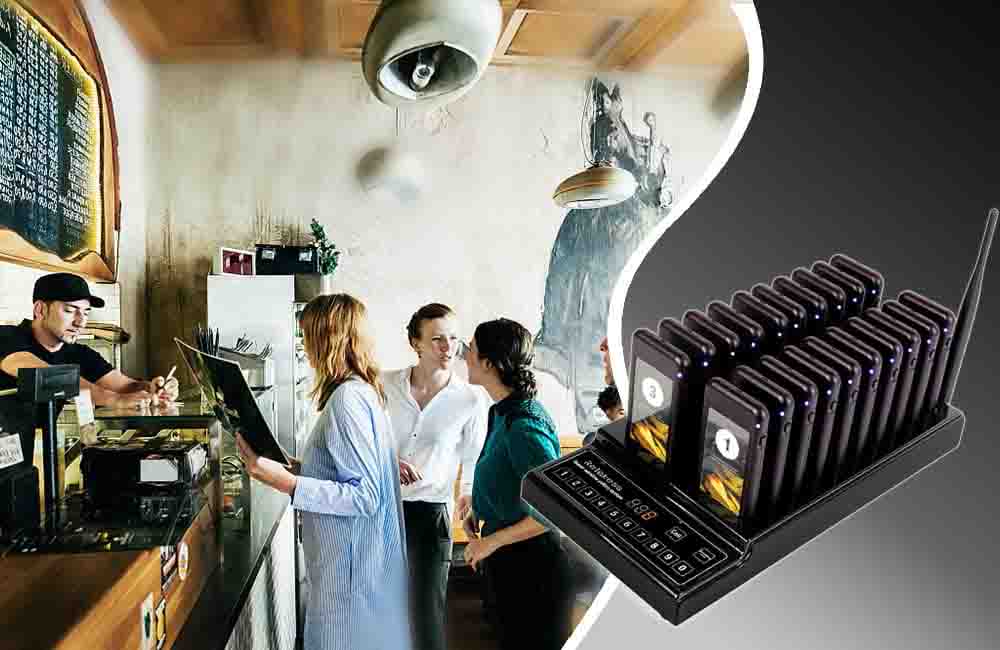 The benefits of using a paging system for restaurants
Avoid customers in the cold winter or hot summer queue, give customers a good dining experience, which will make your restaurant's image has improved and increased the number of repeat customers.
Avoid crowding the restaurant due to too many people in line, and crowds should be avoided as much as possible during the period when Covid-19 is popular.
If you want to improve the environment of your restaurant and create a quiet, upscale restaurant atmosphere, you definitely need a suitable paging system to use in your restaurant.
Reduce the work task of service staff, help the understaffed restaurant to improve efficiency, and avoid order error accidents to some extent.
In a busy restaurant, the right paging system helps with efficient use of time, fast communication, and the overall smooth operation of the restaurant - a formula for happy guests, fast table turnovers, and increased profits.

How should you pick the right paging system for restaurants?
If your restaurant at the seaside, large shopping malls, and other surrounding locations are more open venues, or the restaurant has so much traffic that customers have to wait in line for a long time, customers may be waiting to go far away, For this situation, I recommend you

TD103 Pager System

. This paging system has a long-range function, even as far as 1000m can receive the signal. Don't worry even if the customer goes outside the range. TD103 also has a super distance alarm function, it can remind customers when they are out of range. Besides, it has a strong vibration, even in a noisy environment, it can also play a good role in promoting.
If your work range is less than 100m, and 20 pagers are enough for your restaurant's normal use, you can choose a set of

T111

:one touch calls, operation convenient, special price. If you subsequently to expand the scale of your restaurant, You can choose

T112

which supports 999 pagers. These two products can be customized as corporate logos, better for your restaurant to do publicity.
If you want to create a quiet dining environment and do not want the pager to beep, you can choose

TD157

. This product can turn off the beeping mode and turn on only the flashing light mode, and the price is affordable.
We support customization, or you are welcome to comment or email us at support@retekess.com with your product requirements, and we will recommend the most suitable model for you.
---