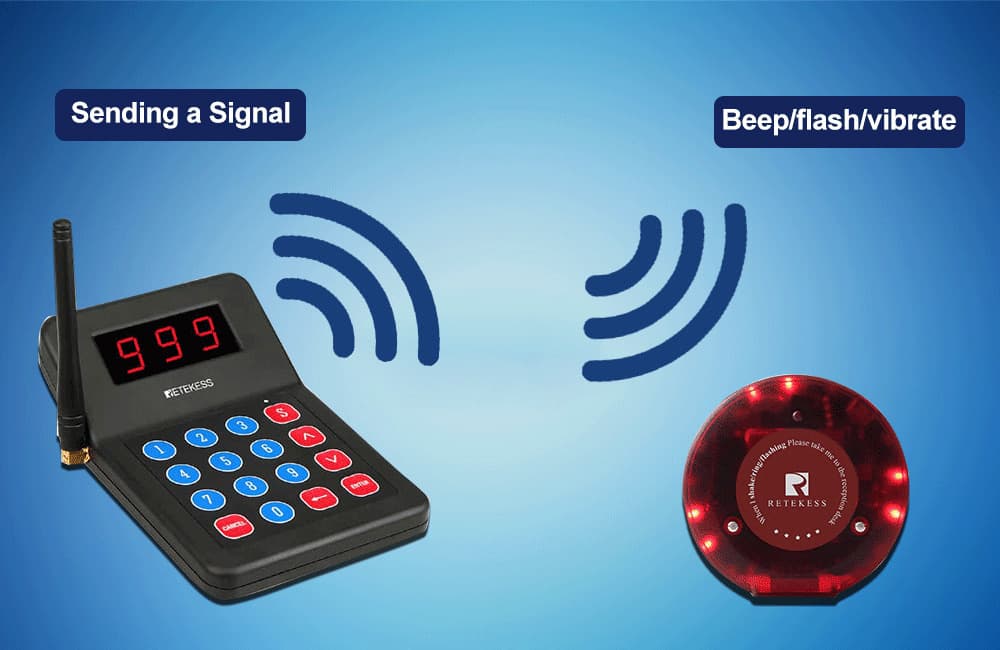 How to notify customers in noisy restaurants? How to inform staff in a machine-roaring factory without cell phone? Using wireless paging system which is durable and stable.
Paging systems for business is suitable for many situation such as restaurants, hotels, factories, church nurseries hospitals and clinics. No cellular network or wifi is required, so you can use it with confidence in places with poor signal. Protect personal privacy, such as authorizing a software to use mobile phone numbers, so that you don't have to worry about revealing personal information
Let's take a look at the excellent performance of paging systems in various industries.
The beep of pager is loud enough to get customers' attention. When food is ready, the kitchen or staff in front counter will press the corresponding number button to customers. And then the pager will beep, vibrate and flashing lights to remind customer to pickup their meal. If you have a special need for beep, we also have adjustable beep speed model: restaurant pager buzzer TD162.
Silent Pager System for Church Nurseries
Church nurseries can use a silent call system to remind parents.

TD157

church nursery pagers can be set only flashing lights without vibrating sound. What's more, Retekess also have free-combined reminder call system TD158, TD162. You can set prompt mode according to your needs. For example: no beep, slow vibration, and fast flashing lights.
Queuing Solution for Hospitals and Clinics
Do hospital or clinic always be confused by queue line when gathering crowded, can not keep a good social distance? Retekess wireless queue calling system will help keep in order. For example, staff call patients in numbers order. The person who was called will go to doctor office and have medical serve.

Medical staff call patients in order with the long distance call system, which allows patients to wait nearby or in the car, reducing exposure to COVID-19.
For more information about paging systems for business, please contact us at support@retekess.com. For visit our official website, please click here.
---