Retekess 7-inch display screen wireless two-way voice paging system
Do you need any paging system that supports voice messages? Some of the customers said that they also need the voice message to the staff. So we list Retekess TD125 wireless two-way voice paging system in 2023.6. if you need a voice system for hotels, restaurants, clinics, and so on, pls check the following good features:
Two-way Voice Communication Device
The system includes a 7-inch display receiver which is with the bid display, it is the touch screen, so very easy to operate, for the voice receivers, they can hear and talk to the display receiver. Once you send a voice message from the voice receiver, there will be a prompt on the screen. Also if you can not check the voice message in time, the message will left as unread until you click it.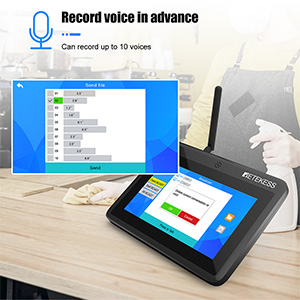 7 Inch Touch Screen
For the display receiver, we use a big touch screen, so that you can operate easily like our pad. You can set the system on the screen receiver, such as adding the user name, seeting the languages, there are 8 languages in all: EN/FR/DE/IT/ES/JP/POR/RU, so it is very easy to set in your language. You can also set some default messages and send them to the voice receiver one time.
Long working range
We use new technology, so the range can be 1000M/3280ft in the open area, it can be used in many applications: hotels, restaurants, chess rooms, warehouses, factories, clubs, and so on. If you need a voice message paging system, the TD125 wireless two-way voice paging system will be the best choice.
If you want to resell the system, pls email us directly to check the price for the distributor.