FM Transmitter Tour guide
Do you have to raise your voice to shouting levels when you address your tour?
Do you have to talk over other people when you are trying to explain a special site?
Have you ever wanted to use a portable and discreet PA system to speak to your tour?
The FM transmitter has the ability to broadcast selected audio sources to any FM radio within a certain distance. Retekess FT11 FM transmitter can broadcast up to 150 feet in the open area.
If you are a tour guide and want your voice broadcast in the long-range, you can choose the FT11 FM transmitter.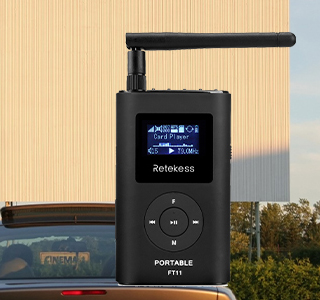 Simple and easy to use
Retekess FT11 FM transmitter is easy to use, just need to power it on and then set one level, from the 4 levels. Plug the microphone into the transmitter and tune it to any FM radiofrequency. And set the FM receiver to the same frequency. Then you can hear the sound. 4 levels of FM transmitter for FT11, the highest level means the longest working range. For the listeners, no need to buy the other receivers, but with the FM radio or phone with FM function.
Long working range
There are 4 levels for FT11, if you need the long working range, you can choose the last levels. The working range can be up to 150 feet. Also with the crystal sound quality.
Long stand by time
Retekess FT11 FM transmitter with a built-in battery of 1500mAh polymer lithium battery provides 6-8 hours. The USB cable with the bold copper core supports a faster-charging speed. So it is good for tour guide outside. It can save your time as well.
We also have other types of portable FM transmitters, such as TR504 and TR506. For the FM receivers, we have many types, if you do need it for the receiver, you can check PR13 or V112. But if you have other questions, and want to find the best solution for your business, pls email us at support@retekess.com