Retekess focus on wireless communication technology for 11 years, we supply the best wireless technology products and solutions for travel agency, factory, church, and so on. We care about every customers' needs and feedback. In 2018 Year, we sell the T130/T131, and it becomes very popular in a short time due to the compact size, high quality, and cost-effective price. In 2020, we list Retekess new arrival TT122 tour. We study it for about one year and made the design by ourselves. If you want to choose a tour guide system, which type do you prefer? Tell us your answer to win a free gift of T130 or TT122.
T130 Tour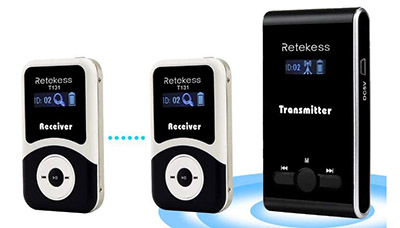 Retekess T130 99 Channel Tour is a sleek and modern, small, light-weighted device that comes with a low power consumption LCD display. The use of PLL Technology ensures stable signal resulting in high performance against preventing fires, in high temperatures or against fall. It can be taken on any trip as it has a long-lasting battery of 600 mAh that can last for 18 hours after recharging it completely.
In the 196ft distance, a transmitter can transmit to many receivers. You can buy any receivers that you need. At a time, 99 groups can operate at a single place simultaneously.
By connecting the transmitter's mic input port to a laptop, phone or Mp3, the sound can be transmitted. A consistent wireless signal ensures complete clarity. It has an earpiece and lanyard for convenience and safety respectively.
TT122 Tour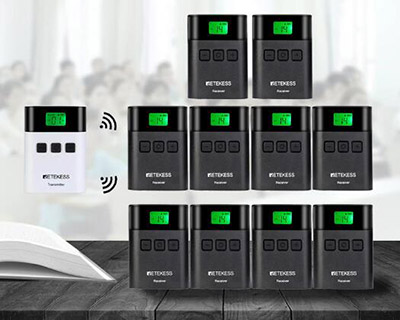 Retekess TT122 is the Reteekss design, fashion, newest technology, stable signal, and long working range. This system adopts 2.4GHz technology, it is free certification in the whole world. The battery for the transmitter and receiver are 1500mAh, you can use 8H and 16H once you charging full. The working range can be 492ft in the open area.
Easy to set up, 3 keys in all to set the tour guide system, up and down key to adjust the volume and channels. Long press the up key to set all the receivers channels one time.
Key lock function, long-press the down key for 3 seconds to lock/unlock the tour guide system.
You can also connect the transmitter mic with laptop, phone, or MP3, the receivers with the same channel and working range will hear the sound.
Leave us the answer, which one will you choose and tell the reason, we will choose 2 lucky customers from 10 and send one transmitter and one receiver as the free gift. If the feedback is less than 10 pieces, we will not send the gift. Share the blog, and tell your friends who need it and tell us your choice.
If you have any questions, pls email us at support@retekess.com.