Easter is a Christian holiday that celebrates the belief in the resurrection of Jesus Christ. Although a holiday of high religious significance in the Christian faith, many traditions associated with Easter date back to pre-Christian, pagan times. Easter 2023 occurs on Sunday, April 9. In the Easter event, many people will gather together, maybe in the churches, so that the tour guide system can make communication between different people easier.
Retekess focused on wireless communication for 15 more years and we have types of tour guide systems, which can be used in churches, events, conferences, and so on. If you don't know which model can be used, pls check the details: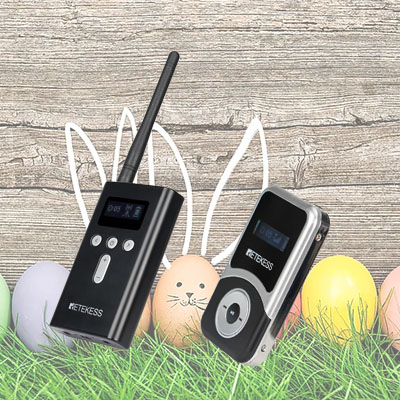 T130S and T131S
T130S and T131S are the updated version of T130 and T131, which are the most popular type of tour guide systems due to the high quality of sound. For the new version, we change the battery to a larger, So that it will work for a longer time, also changed the way to set them. The other good feature is that they can work with the old version of the transmitter, receivers, and charging case. Click here to check more details about the 2 versions
TT122
We list the TT122 tour guide system 1 year ago, then it becomes one of the most popular type of tour guide systems of Retekess. Because the range of TT122 is longer than T130 and T131, it can reach 80-100 M in the open area, besides, the white and black color makes TT122 tour guide system more fashionable. There is a charging case for TT122 as well. If you need it for the Easter events, pls contact us to get the best offer.
Retekess tour guide system also supplies the other type of models, such as the TT106 ear type. If you want to use the system for the Easter event, pls inform us to get more details.