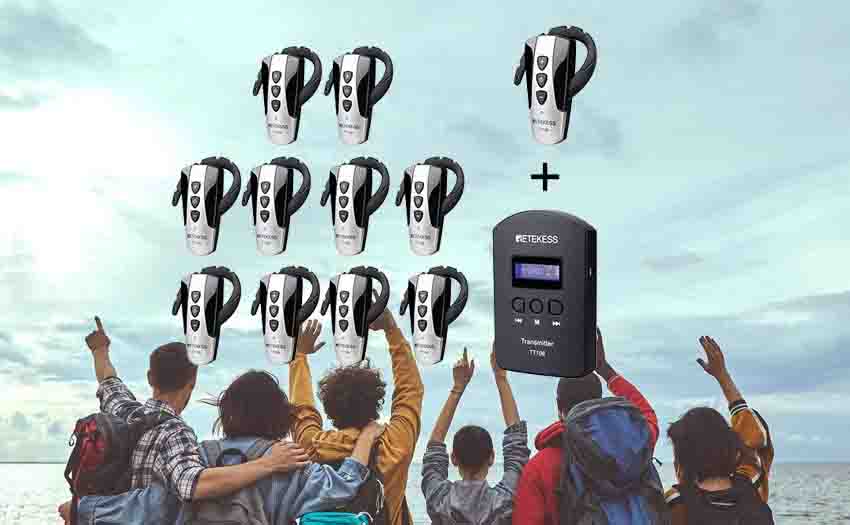 Retekess TT106 Wireless Tour Guide System is a great tool that can use in tourism. When the speaker speaks through this transmitter, the receivers can hear about the speech content. This tour guide system can also use in weddings, speaking conferences, churches, and so on.
Here are the features of TT106 Wireless Tour Guide System:
Long Service Time:
For transmitter of Wireless Tour Guide System,3h get full charged, 25h continuous use; For the receiver of the product,2h get full charged, 23h continuous use. Don't need to worry that your equipment will be cut off during using time, and can leave a good impression on customers.
Clear sound:
The Wireless Tour Guide System lets customers experience higher sound quality. People can use it in Important meetings.
Ear-Hook Mini Receiver:
The receiver of the Wireless Tour Guide System adopts Ear-hook Design. And each receiver weighs 18g, easy for listeners to use. Give users a comfortable user experience.
Over-distance prompting:

When the tourist is too far away from the guide, the receiver of the Wireless Tour Guide System will make a sound to remind the tourist. No need to worry about the tourist leaving your team.

One Key Operation:

Include One-key Pairing, One-key Shutdown, One key Mute; Simpler operation and more convenient use for you.

Use two transmitters at the same time in one group:

Wireless Tour Guide System allows two transmitters to work at the same time or take turns to work in one group (That means that it allows two persons to speak at the same time or take turns to speak, and all the listeners with receivers can hear).

Add countless receivers:

One transmitter can be paired with multiple receivers. That is to say, one tour guide can serve more tourists.

If you are looking for a tour guide system, get the product TT106 model here: https://bit.ly/3erpO5D

Any questions about the product, just feel free to contact Retekess directly through the following info:

Web: www.retekess.com

Email: support@retekess.com

WhatsApp: +86 15639073051

Facebook: https://www.facebook.com/Retekess
---